Selco Immersion Thermostats Provide Safety and High Limit Control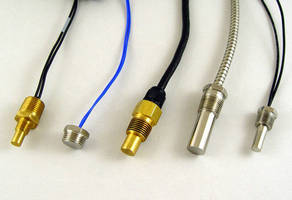 Reno, NV - Selco Products Company's line of Immersion Thermostats meet OEM requirements for a variety of challenging applications where the temperature control device must be submerged in water or other liquid or used as air sensors. Typical applications include pressure washer equipment, industrial steam cleaners, power parts washers, industrial water heaters, graffiti cleaners, and carpet cleaning equipment.

Selco's CPO/CPC and SIC/SIO Series of Immersion Thermostats feature a tamper-proof factory preset bimetal switch with operating temperature ranges from 41°F to 500°F (5°C to 260°C) and a pressure rating of 500 psi. Thermostats are completely overmolded in a one-piece brass or stainless steel probe construction, providing a reliable, moisture-proof device capable of continual operation for either hot or cold conditions.

"When a customer comes to us looking for a solution, we often not only supply them with a product, but many times with a better, more cost-effective solution than they were using before, says Diane Padilla, Thermostat Product Manager. "With Selco's customization capabilities and fast response time, OEMs can get the temperature control device that exactly meets their requirements."

Selco's low-cost immersion bimetal switches are available with a pressure rating of 500 psi in regulating or limiting probe type. Regulating probes feature a creep action regulating thermostat mounted at the probe tip. This provides constant stability and maintains a tolerance of +/-4°C (7°F) with an electrical load of 6A, 120/240VAC max. resistive. For safety limiting applications, a snap action version is available, which features 22 amps at 120VAC and 16VDC at 20 amps max rated. Other characteristics include differentials of 10°F to 80°F (12°C to 26°C), and NPT sizes from 1/8" to ¾." Probe lengths and terminations are customized to meet individual requirements. Terminations include wire, quick connects, strain reliefs, or automotive connectors in either isolated or grounded case configurations.

Selco can cross reference customer part numbers to match a suitable Selco thermostat and assist with choosing the right product for the application. Selco also supplies proto type samples for application verification test and quick turn-around quotes starting as low as 10 units, including customs. Immersible thermostat pricing ranges from $10.00 to $85.00 depending on quantity and delivery is two to ten weeks. For detailed product specifications, visit http://catalog.selcoproducts.com/category/probe-thermostats?

About Selco Products Company

Founded in 1958, Selco's wide range of temperature control products include thermostats, NTC thermistors, temperature probes, electronic temperature controls, control knobs, high-bright LED lighting, digital panel meters, and photocells . Contact Selco Products at 8780 Technology Way, Reno, NV 89521-5908, Tel: (775)674-5100, Toll-Free: (800) 257-3526; E-mail: sales@selcoproducts.com; Web site: www.selcoproducts.com.


More from Agricultural & Farming Products