SEL-T400L Time-Domain Line Relay is based on traveling-wave microprocessor.
Press Release Summary: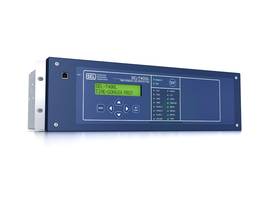 Capable of detecting power system faults, SEL-T400L Time-Domain Line Relay sends trip signal to circuit breakers at 4 to 10 times faster than phasor-based relays. Relay uses combination of traveling wave and incremental quantity protection technologies. Unit trips at a speed of millisecond for improved system stability and power quality.
---
Original Press Release:
SEL Releases World's Fastest Transmission Line Relay
For the first time, incremental quantities and traveling wave protection come together in the SEL-T400L Time-Domain Line Protection
Schweitzer Engineering Laboratories (SEL) released the SEL-T400L Time-Domain Line Protection—the world's first traveling-wave microprocessor-based relay. It detects power system faults and sends a trip signal to breakers four to 10 times faster than present-day phasor-based relays, offering ultra-high-speed and secure protection of critical transmission lines.
"We are protecting energy moving at the speed of light. The T400L is like moving from a car to a jet!" SEL President Dr. Edmund O. Schweitzer, III said. "Time domain-based protection is the future and this is the most important thing SEL has done since releasing the first digital relay in 1984."
Using a combination of traveling-wave and incremental-quantity protection technologies, the SEL-T400L trips as fast as a single millisecond. Faster tripping times mean improved safety, less damage to equipment, improved system stability, and better power quality.
With this product, utilities are able to extend the life of existing transmission infrastructure, resulting in significant cost savings. Additionally, Fast Time-Domain Values is like having an oscilloscope on the power system, allowing users to analyze high-speed transient events to understand what happened and take corrective actions.
"We designed the SEL-T400L to complement traditional line relays while dramatically reducing trip times of the complete redundant protection system. It's a quantum leap in line protection performance," Dr. Bogdan Kasztenny, SEL senior engineering director of research and development said. "Plus, it locates faults to an exact tower, and with 1 MHz recording, it gives you new eyes into your power system."
Now available for $12,000, the SEL-T400L is easy to set and ships from stock within two days. Initial orders of two or more relays placed by June 30, 2017 will include a free SEL-T4287 Traveling-Wave Test System, valued at more than $4,000. This standalone device allows for simple and precise testing of the single- and double-ended traveling-wave fault locators and the traveling-wave protection elements in the SEL-T400L.
For more information on SEL-T400L features, benefits and applications, visit www.selinc.com/p259/.
SEL serves the power industry worldwide through the design, manufacture, supply and support of products and services for power system protection, monitoring, control, automation, communications and metering. For more than 30 years, SEL has provided industry-leading performance in products and services, local technical support, a 10-year worldwide warranty and a commitment to making electric power safer, more reliable and more economical.
For more information, contact:
Paul Warner,
Technical PR
Schweitzer Engineering Laboratories, Inc. (SEL)
Phone: +1.509.336.2527
Email: paul_warner@selinc.com
More from Electronic Components & Devices