Seismic Base Isolators for Rack Storage Systems Receive Patent Approvals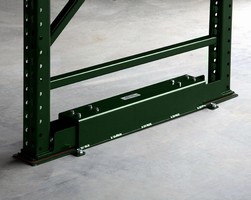 Erie, PA - December 6, 2007 - RIDG-U-RAK has received two patents on its Base Isolation System used with storage racks in seismic applications. During months of testing, the Base Isolation System dissipated as much as 85% of the seismic energy exerted on the rack system. The Seismic Base Isolation System from RIDG-U-RAK reduces the effects of seismic acceleration ground forces on the rack structure, decreasing the chance of personal injury or product damage during an earthquake.

The base isolation unit is positioned between the columns of an upright frame and anchored to the floor, allowing the rack structure to move during a seismic event. Extensive testing on the new system verified that the Seismic Base Isolation System meets new performance guidelines developed by the Federal Emergency Management Agency (FEMA). These new guidelines address growing concerns for public safety in retail warehouse centers located in moderate to high seismic zones.

"I believe this Seismic Base Isolation System is one of our finest accomplishments to date," said John B. Pellegrino, P.E., President and CEO of RIDG-U-RAK. "After years of development and exhaustive testing, we have formulated an innovative storage system that reduces the risk of personal injury and product loss during an earthquake."

The patented Base Isolation System passed full-scale three-dimensional shake table testing conducted at the Structural Engineering Earthquake Simulation Laboratory at the State University of New York at Buffalo.

RIDG-U-RAK has been committed to decreasing the risks associated with storage racks during seismic events for many years, and these patented isolators help to reduce risks during earthquake events. This one-time investment in risk reduction does not obstruct daily operations, requires no special storage techniques or palletization and can be repositioned during warehouse reconfiguring. The highly innovative system can be installed in new or existing storage applications.

For more information on RIDG-U-RAK's Seismic Base Isolation Storage System, contact an authorized RIDG-U-RAK distributor, call the factory toll-free at 1-866-479-7225 or visit www.ridgurak.com. Details of the testing and video footage are downloadable from the Web site.

RIDG-U-RAK is a leading manufacturer of rack storage systems for distribution centers, industrial warehouses and retail shopping facilities. RIDG-U-RAK is a member of the Rack Manufacturers Institute (RMI), the Material Handling Institute of America (MHIA) and the Material Handling Equipment Distributors Association (MHEDA).

More from Test & Measurement