SEFAR® Architecture Lightframe® Illuminates Amon Carter Museum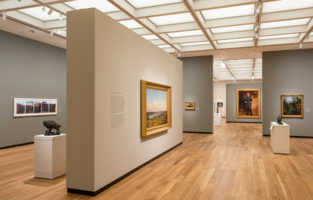 Modern, elegant system illuminates key exhibits and works of art
Depew, NY…Founded in 1961, the Amon Carter Museum of American Art in Fort Worth, TX explores the breadth and complexity of American creativity through an important and dynamic art collection. From masterworks by the giants of painting and sculpture to a world-renowned photography collection, the regularly rotating installations allow visitors to experience something new every time they visit.
To optimally highlight the collections, SEFAR Architecture's Lightframe® illuminated modular fabric ceiling system was selected for use in the galleries. "Our goal was to provide a soft ambient light across our permanent collection spaces. The Lightframe system allowed us to achieve the positive effects of an illuminated ceiling, with none of the inherent dangers of a glass skylight," said Brett Abbott, Director of Collections and Exhibitions at the Carter.
"The Lightframe panels provide a beautiful even light for the gallery spaces," says Mark Schatz, Principal, Schwartz/Silver Architects, the firm responsible for the gallery renovations. "The panels are backlit from above with an array of LED lights (also provided by Lightframe) that can be dimmed as desired."
The Lightframe ceiling modules cover over 4,000 square feet across the museum's galleries. In total, 107 oversized panels were installed with photometrically optimized LED lighting above. The entire system and lighting, including all ceiling mechanical channels were installed by the same ceiling contractor, ensuring a timely and efficient process. 
Sefar Lightframe is unique in that it was specifically designed with a secondary membrane, which allows it to evenly diffuse light while improving acoustics – both of particular importance in a gallery setting. Additionally, the ceiling system provides an NRC value of .85, enabling a pleasant environment in this gallery, and in any location where it can benefit overall acoustics.
"The ambient light level provided by the panels means that fewer track lights are needed to light the paintings and objects," Schatz says. "The Lightframe fabrics are acoustically transparent, which allows sound to be absorbed by acoustical material above the ceiling. The panel's aluminum frames are designed to swing down, providing required access above the ceiling."
Lightframe features a modular design with a dual membrane system. The supremely functional modules are hinged to be easily opened – allowing access for local maintenance staff to service the plenum area without requiring the entire area to be shuttered. Lightframe is VOC free to CDPH 1350, highlighting a distinct advantage over traditional stretch fabric translucent ceiling systems.
Sefar's Fabric is fire rated to ASTM E84 Class A with extremely low Smoke Developed Index (SDI) and Flame Spread Index (FSI). 
To learn more about Sefar Lightframe, visit: https://www.sefar.com/en/609/Product.htm?Product=16869
About SEFAR Architecture:
SEFAR Architecture is a leading manufacturer of monofilament precision and ePTFE yarn fabrics and fabric systems for interior and exterior architectural applications. With comprehensive knowledge in textile architecture, Sefar has cooperated with experienced lighting technicians and polymer experts to develop a new generation of fabrics for the architectural and design community. For more information on SEFAR Architecture's products and services, call Peter Katcha at 727-388-4919 or visit www.sefar.us.
About the Amon Carter Museum of American Art:
Located in the heart of Fort Worth's Cultural District, the Amon Carter Museum of American Art explores the breadth and complexity of American creativity through an important and dynamic art collection. The Carter opened in 1961 to benefit its community by sharing the wonder of American art, fostering the growth of a vibrant cultural spirit, and stimulating everyone's artistic imagination. Housed in a building designed by Philip Johnson (1906–2005), the Carter features one of the great collections of American art including masterworks of painting, sculpture, and works on paper by artists such as Georgia O'Keeffe, Jacob Lawrence, John Singer Sargent, Frederic Church, Thomas Eakins, Grant Wood, Alexander Calder, and Stuart Davis. The Carter is also home to a world-renowned photography collection that spans the history of the medium from the 19th century to today. It is also home to Amon G. Carter Sr.'s collection of nearly 400 works by Frederic Remington and Charles M. Russell, two of the most significant artists of the American West. Admission is free. www.cartermuseum.org
Contact:
Nick Murosky
LarsonO'Brien Marketing Group
Phone: 412-347-8039
Email: nick.murosky@larsonobrien.com
More from Packaging Products & Equipment