seepex Progressive Cavity Pumps Support Ohio's First Anaerobic Digestion Systems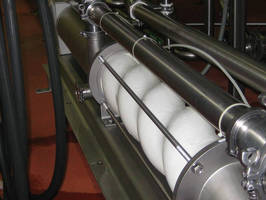 More jobs, clean energy, waste reduction and value added products are just some of the benefits of quasar energy group's (quasar's) flagship anaerobic digester facility. quasar energy, The Ohio State University (OSU), and the Ohio BioProducts Innovation Center have partnered together to produce clean renewable energy in Ohio. quasar, with the help of seepex, is driving the train to innovation. Construction on the Columbus anaerobic digester is almost complete. Leaders are excited to implement this permanent solution. The 2009 inception of quasar's flagship facility in Wooster was the first step to proving that Ohio's leadership was serious about confronting economic and ecologic problems troubling its citizens.

The F550 system is quasars farm scale model (Wooster, OH plant), handling a fraction of its larger C1325 system (Columbus, OH). The Wooster plant was constructed to demonstrate the capability of the technology to manage regional biomass and generate renewable energy.

quasar's mission statement reads: "To produce affordable renewable energy from commercial and municipal organic biomass, while improving the environment."

Anaerobic digestion is a natural process where microorganisms break down organic material (biomass) in the absence of oxygen. The process starts with the arrival of biomass (quasar receives agricultural waste, food waste and municipal wastewater.) A large cone shaped pit receives the waste. A grinder has been integrated into several seepex BN range progressive cavity pumps, which move the biomass to the anaerobic digester, where you might say, "the magic happens." Several different kinds of bacteria work in unison to break down the elements of the biomass. seepex pumps maintain biomass levels and add additional bacteria as needed. The results are energy biogas, soil amendment, and liquid fertilizer.

The gas is burned in a combined heat and power unit creating 600kw of electricity. The gas is stored in the anaerobic digester's (or silo's) expandable rubber compound roof. A very slow process, this is best shown with time-lapse video. quasar has chosen seepex pumps in their turnkey system for the reliability and longevity of the product.

The seepex Progressive Cavity Pump (PC pump)has the properties and a proven track record of being able to move solid waste (food waste, sludge, slurry, etc.) quickly and efficiently. Simpler, contained, more cost effective and less-maintenance make it an attractive fit for bio-waste.

The BN is the based on the PC pump standard. The drive of the BN range pumps is directly flange-mounted to the pump. This means that a separate pump bearing is not necessary and the pump is more compact and less expensive. The plug-in shaft connection between drive and the rotating unit simplifies the replacement of rotating wearing parts and the shaft sealing, thereby making the BN range very service friendly. At the 2010 IFAT, seepex released its new Smart Conveying Technology, which is made up of quick removal stator halves and rotor. "Low maintenance, low weight and low cost parts make the SCT the sexiest thing to happen in progressive cavity pumps in 30 years!," Daniel Lakovic, Assistant to the President, seepex. The SCT can be retrofitted to all N range seepex pumps and many other PC pumps.

With a full staff of application engineers, seepex is able to provide custom solutions to virtually any industry. Partnering with quasar to provide Ohio with a bio-waste solution was a perfect fit for both parties. In fact the pilot plant has sparked a fully loaded, large-scale municipal waste anaerobic digestion plant.

Columbus Ohio is home to approximately 750,000 citizens. These people create a lot of waste and although water treatment has been in place for a long time, there has not been a functional solution for disposing the dewatered solid waste that is left over.

In the past, biomass had to be disposed of in local landfills. This is costly and harmful to the environment. Bio-solids emit green-house gases, which are a leading contributor to global pollution. There needs to be a long-term solution for this growing problem. Grabbing the attention of Governor Strickland and Mayor Michael Coleman, quasar, in collaboration with the Solid Waste Authority of Central Ohio and Kurtz Bros., Inc., has come up with a solution in Columbus. Turning a cost center into a profit center.

In May 2010, quasar broke ground on Ohio's largest anaerobic digestion plant. 1,325,000 gallons system capacity, annual inputs of 45,000 wet tons, 8,760 MW annual electricity, nutrient management and reduced greenhouse gas emissions. The plant will receive bio-solids, food waste, fats, oil's and grease. seepex has been fully integrated into the system and with opening just around the corner; this will be an amazing accomplishment for quasar, seepex and the city of Columbus.

The quasar website reads:

quasar energy group is committed to bringing renewable energy to North America. Since 2006 quasar's leadership team has worked to provide clients with turn-key solutions to their waste management challenges and renewable energy goals.

seepex is a progressive cavity pump company based in Enon, Ohio. They are the sole provider of pumps for the Wooster pilot plant and the Columbus plant. The seepex website reads:

For more than 30 years, we have been offering our customers in the chemical, food, paper, petroleum and gas as well as environmental engineering industries and numerous other industries optimum economical problem solutions based on low life-cycle costs.

We will keep on expanding our leading market position consistently in the future by developing innovative and market-driven products and services, by expanding our enterprise purposefully on an international basis and by opening additional market segments.

quasar is constructing each plant is using mostly Ohio companies. Ohio companies completed more than 50% of the work on the Wooster plant, and Ohio companies will complete more than 75% of the Columbus plant.

These projects create jobs for skilled labor that are desperately needed in Ohio. They are creating clean energy that promotes a sustainable future. It is creating a usable fertilizer instead of harmful landfill waste. The overall positive impact on the regions is positive and the future of bio-energy is here. seepex and quasar are continuing to develop innovative products and applications and with Ohio serving as an anaerobic digestion trendsetter we will be able to provide a solid foundation for a national and global solution.

More from Machinery & Machining Tools