See the Newest in Precision Tooling at BIG Kaiser Eastec Booth #5229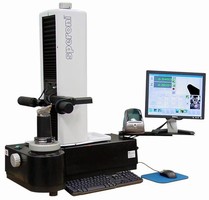 Elk Grove Village, IL - BIG Kaiser Precision Tooling Inc. will showcase a number of tooling product lines at Eastec 2007. Visit BIG Kaiser at booth #5229 to see what's new from Kaiser, BIG Daishowa, Speroni, Unilock, Sphinx and more.

Air Power Spindle provides solutions to the endless challenges of micro machining with ultra high speed and precision, offering variable spindle speeds up to 80,000 RPM! Air Power Spindle is an air-driven tool that can be used on existing machining centers to provide dramatic enhancements to surface finish quality, extended tool life, and reduced wear on high speed spindles. Used as an additional spindle on a normal machining center, Air Power Spindle eliminates the need for an expensive, high-speed machine.

The product minimizes thermal displacement in the Z-axis for top precision. When compared with a standard machining center spindle with up to .012mm of displacement, Air Power Spindle remains constant at less than .001mm. The Micro Collet allows a clamping diameter of .018"-.159" and guaranteed runout of less than 1µm (.00004") at the nose.

Also on display will be the new Fullcut Mill FCR Type. FCR's geometry expands capabilities in multi-functional milling, achieving supreme milling performance for ramping, helical-, shoulder- and plunge-milling operations.

Fullcut Mill FCR's extremely sharp cutting edges, with both high radial and axial rake angles, achieve smooth and quiet end milling in all materials. The sharp cutting edges of the unique indexable insert retain high strength and toughness due to the optimized eccentric relief angle for each cutter diameter. The cutter is available in diameters 5/8", 3/4", 1", and 1 ¼" in various length configurations with BIG PLUS integral shanks CAT40, BT30, and BT40 as well as HSK-A50 and A63 versions.

BIG Kaiser will also showcase the new integral-shank design for the popular EW2-50XL precision finish boring head at Eastec. The new integral design will be available for CAT40, BT40, HSK-A63 and Capto C6 size spindles and provide a shorter tool than the modular shank/boring head combination. In the case of the CAT40 taper, the tool is shorter by over 1.3". This translates into a lighter and more rigid tool that can operate at higher cutting speeds and feeds.

For use with existing center-mounted boring bars (.078"-2.125") and side-mounted insert holders (3.15"-6.00"), these heads can be used for precision finish boring with a large adjustment dial displaying increments of .0002"/div. and Vernier markings to accurately adjust to .00005" on diameter.

BIG Kaiser's newest technology in tool presetting systems will also be on display at Eastec. The new STP-35 Basic and STP-35 EzVision Systems match the superior accuracy and T.I.R. of the STP-34, with an extended z-axis height to accommodate tools up to 20" in length.

The system's thermo-balanced and artificially aged pearlitic cast iron structure ensures that the equipment is fully isostatic and will not deform or distort over time or temperature change-a fundamental requirement in providing long-term linear accuracy and repeatability.

The EzVision system's quick gage capability can measure any tool. It manages and displays tooling and cutting edges on the same monitor as the Speroni PC-based EzVision control. The system has display resolution of .001mm (.00004") for added precision and features one-micron Heidenhein glass scales.

The EzVision control features a centering indicator box that is ideal for presetting angular cuts, as in chamfering. It may also be used to calculate nose radii and angles. Episcopy, one of the STP-35's most popular options, provides an easy way to detect defects or deformities by illuminating and magnifying the cutting edge.

BIG Kaiser Precision Tooling is a leader in high precision tooling systems and solutions. With brands including Kaiser, BIG Daishowa, Speroni, Unilock, Sphinx, and more, BIG Kaiser's line is focused on extreme accuracy and repeatability. BIG Kaiser's mission is to support North American manufacturers with products that are designed and manufactured to a superior standard. Guaranteed.

Visit BIG Kaiser Precision Tooling at Eastec booth #5229 for more information.

More from Thermal & Heating Equipment