Security Panels are suited for small businesses.
Press Release Summary: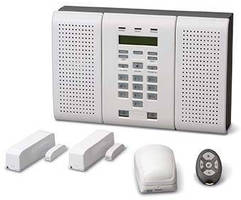 While ST8 64-zone modular hybrid hardwired/wireless system suits custom applications, ST Express 64-zone wireless self-contained system offers accelerated installation. Both support phone control, voice feedback, and voice messages, and ST Express adds built-in 2-way voice verification. Systems can also transmit over VoIP lines and are available with Ethernet interface module for remote monitoring and control as well as 2-way communications with automation systems.
---
Original Press Release:

Sequel Technologies Ships Hybrid and Self-Contained Control Panels



Ethernet Interface Module and numerous system peripherals also released

Roseville, Minn. - November 21, 2008 - Sequel Technologies, Inc., has released two new security systems and a complete line of peripherals. Sequel, which has four patents pending, is now shipping two flagship security panels: the ST8 64-zone modular hybrid hardwired/wireless system and the ST Express 64-zone wireless self-contained system. The ST8 is ideal for custom applications, while the ST Express works well when very fast installation is desired.

Sequel is also shipping several new peripherals including an Ethernet Interface Module that allows users to monitor and control their home remotely via the Internet.

Security for the Digital Age

"Sequel's security systems boast rich feature sets that help independent dealers," says president Duane Paulson. "The products were built from the ground up to serve security needs in a digital era."

For example, all of Sequel's security panels incorporate a method for transmitting over VoIP lines.

Sequel's security systems are state-of-the-art, with download speeds eight times faster than competitive panels. Installers can remotely update all or part of the firmware without rolling a truck.

"Traditionally, dealers have been able to program features to panels remotely," says Paulson, "but our system goes beyond the usual, to enable dealers not only to remotely program the system but also to update all or part of a system's firmware without a truck roll."

An optional Ethernet Interface Module (EIM) adds several advanced features to the Sequel systems. The EIM provides Internet central station communications, using either the newly approved SIA DC-09 or Sur-Gard T-Link protocols. It directly serves up web pages to let the user control the system with a standard browser, sends emails about alarms and system status to PCs and mobile phones. The EIM also enables two-way communications with leading home automation systems.

In addition, the ST8 and ST Express systems feature phone control, voice feedback, and voice messages to any phone as standard. Two-way audio is built into the ST Express.

Superior Wireless Performance

Sequel's founders have vast experience in wireless security, and wireless performance is a hallmark of the company.

Sequel's unique wireless frequency diversity technology transmits and receives radio signals on two separate frequencies providing enhanced reliability.

In October, Sequel released its Wireless Expansion Module (WSX), which provides relay control based on inputs from wireless sensors and keyfobs - those of Sequel's and other select suppliers. Sequel has released its own wireless sensors including door/window, PIR, and smoke sensors and 5-button keyfob.

Dealer Direct Business

Sequel sells through a direct-to-dealer program. "We're going back to the good old days when security manufacturers had a close business relationship with each of their customers," says Paulson, who co-founded Sequel with CEO Charles (Chuck) Durant. Both were top executives of Interactive Technologies Inc. (ITI), which ultimately was acquired by GE Security.

"Chuck and I 'grew up' in the direct-to-dealer business, and we are resurrecting that model," Paulson says.

"As we have done in the past, we plan to build great relationships with our dealers based on mutual loyalty," Paulson says. "Our motto is no one comes between us and our customers."

About Sequel Technologies

Headquartered near St. Paul, Sequel designs and markets electronic security systems designed for the digital age. Founders Charles Durant (CEO) and Duane Paulson (president) were top executives at leading wireless security company Interactive Technologies Inc. (now GE Security) before launching Sequel in 2005.

Visit www.sequeltechnologies.com.

ST8 Features

o Eight on-board hardwired zone inputs (expandable to 64)

o One 2-wire smoke input, convertible to a standard burglary zone

o Up to 64 wireless or hardwired zones

o Supervised wireless duplex narrowband frequency diversity (319.5 MHz & 345 MHz) using optional Expansion Transceiver Module (EXT)

o IP reporting, operation and programming using optional Ethernet Interface Module (EIM)

o Line seizure relay, DTMF phone control, line supervision

o Two programmable siren outputs, one relay output

o 2-way voice capability and voice feedback for system status and alarm conditions using up to 2 optional Remote Audio Modules (RAM)

o Remote programming capability

o High speed modem provides fast download speeds

End User Features

o Function keys allow single button arming

o On and off premises control of system via touchtone phone

o System voice status and alarm reports to up to 4 phone numbers

o Browser-based control of the system using optional EIM

o Latchkey reporting

o Chime mode

o X-10 control using PSC-04 module

Additional features of ST Express

o Built-in two-way voice verification

Data sheet link

o www.sequeltechnologies.com/cart/products/pdfs/ST8_data_sheet_final.pdf

Duane Paulson, President
Sequel Technologies, Inc.
2958 Cleveland Ave. No.
Roseville, MN 55113
phone> 651-756-1528 ext. 103
fax> 651-846-6339
internet> www.sequeltechnologies.com

Related