Security Labels offer multi-layer counterfeit protection.
Press Release Summary: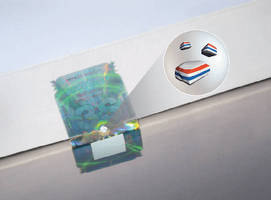 Designed to protect products and packaging against counterfeiting and manipulation, 3S Security Labels combine hologram made of VOID or PET foil with SECUTAG® micro color-code, which consists of different color layers and is manufactured in sizes beginning at 8 µm. By using microscope, SECUTAG® offers users legally binding identification of their original products. Permanent adhesive labels can also include tilting and kinegram effects, serial numbering, customer data, and UV or IR marking.
---
Original Press Release:

New Label for Multi-layer Counterfeit Protection



On the basis of a hologram label, 3S Simons Security Systems GmbH has developed a new security label which protects products and packaging against counterfeiting and manipulation. Due to the integration of the micro colour-code SECUTAG® and additional variable security features, the new label turns into a multi-layer security concept.

Nottuln/Germany, - More and more counterfeit products enter the legal supply chain. Against this background, it is essential for companies from all industry and trade sectors to find appropriate methods for the protection of their products. To assist them in their fight against counterfeiting, German 3S Simons Security Systems GmbH has developed a new generation of security labels.

A hologram made of VOID or PET foil, optimised by 3S with regards to its anticounterfeiting characteristics, forms the basis of this solution. A SECUTAG® micro
colour-code is included in the hologram label. This code is microscopically small,
consists of different colour layers and is manufactured in different sizes beginning
at 8 micrometers.

Each customer receives an individual colour-code which unambiguously identifies
his labels and products as originals. The SECUTAG® micro colour-code has been
forgery-proof for over 15 years and is accepted as evidence by international courts.
SECUTAG® offers users worldwide an easy and legally binding identification of their
original products by use of a simple microscope. The protection is invisible to the
naked eye.

Apart from hologram and micro colour-code, the label can be provided with
additional security features. These are, for example, tilting and kinegram effects,
and serial numbering. Special security stamping further protects against
unauthorized removing of the label. In the PET version, recesses for the company
logo can be integrated into the upper foil.

Furthermore, the label allows for the inclusion of variable customer data as well as
a special UV or infrared marking. The traceability of products and their packaging is
also taken into account: Track & trace codes like data matrix can also be
implemented into the label. As a result, the new 3S label turns into a multi-layer
security concept.

The permanently adhesive labels can be applied in all industries, either as closure
seals, security stamps or stickers. They are suited for the application on different
products, materials and packaging. The labels are delivered as neutral security
labels or they are individually manufactured and equipped with the requested
security features in the 3S production facilities.

Company Profile

3S Simons Security Systems GmbH is an internationally renowned manufacturer of
anti-counterfeiting technologies for all industries. On the basis of the worldwide
smallest micro colour-code SECUTAG®, 3S has developed individual industry
solutions against product piracy. Products, primary and secondary packaging,
textile and sporting goods, certificates and other documents, all kinds of artwork,
data and data systems are secured against forgery. Additionally, counterfeit
protection is combined with supply chain traceability.

For further information, please visit www.3SGmbH.com


More from Controls & Controllers