Security Kit marks devices to thwart thieves.
Press Release Summary: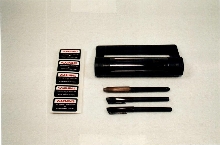 Secure Marking Kit leaves invisible identification mark on servers, PCs, laptop computers, software CDs and other valuable office or personal assets. Kit includes hand held ultraviolet lamp, 3 UV marking pens, equipment inventory form and security labels. UV pens can mark wood, plastic, metal, glass, cloth and paper. UV lamp illuminates identifying marks. Kit comes with CD containing 38 security software programs.
---
Original Press Release:
New Secure Marking Kit Deters Thieves

Overland Park Kansas, November 2001 - Innovative Security Products (ISP) announces the release of the new Secure Marking Kit for $39.95. This security kit works by leaving an invisible identification mark that you write on your servers, PC's, Laptop computers, software CD's and any other valuable office or personal assets. The Secure Marking Kit provides one of the best theft deterrents and significantly increases the chance of identifying equipment for recovery and potential prosecution. This new kit includes a hand held ultra violet lamp, two additional UV marking pens for a total of three pens, a $9.95 value at no additional charge, equipment inventory form and security labels. In addition every order is shipped with a free CD of 38 security software programs.

The Secure Marking Kit offers you the ability to identify recovered equipment with the included UV lamp, which will illuminate your unique identifying mark. The UV pens put an invisible mark on nearly any surface and will not deface or damage the equipment. Some of the materials you can place a mark on include; wood, plastic, metal, glass, cloth, and paper.

"Equipment and product theft is one of the fastest growing and most lucrative segments of the computer industry and the home," said Andrew Cameron, General Manager of ISP.

An increasing problem in most organizations is equipment theft and recovery involving personnel within the company, as well as outsiders. These items are easy to carry away in a purse, briefcase, or coat pocket. The International Electronic Security Group reports that these thefts alone cost companies over a billion dollars annually.

"Most thefts occur because, despite the best intentions, security procedures are inadequate or dysfunctional. You must implement loss prevention and recovery measures that can help to protect your companies property, preserve the bottom line and ensure that the resources necessary to your employees productivity are available when needed." Cameron added.

More from Controls & Controllers