Security Grille combines safety and long-term operation.
Press Release Summary: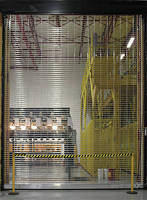 Available in straight lattice and optional brick patterns, RapidGrille™ Advanced Performance (AP) Model 676 industrial and commercial security grille serves applications requiring security and minimized interruption to access without compromised aesthetics or air exchange. Spring-less design minimizes maintenance requirements as well as disruptions to operations, and safety features include built-in stop-lock brake, reversing/sensing edge, and photoelectric sensors.
---
Original Press Release:

Overhead Door Introduces RapidGrille(TM) Advanced Performance Security Grille System



DALLAS – Advanced safety and operation come together in the RapidGrille™ Advanced Performance Model 676, the latest industrial and commercial security grille from Overhead Door Corporation.



Dallas-based Overhead Door developed the RapidGrille™ AP Model 676 to supply a high-level of performance for applications where security, long-term asset value and minimized interruption to access are primary concerns. Parking garages, industrial manufacturing facilities, government property, shipping-and-receiving docks, retail facilities and performance venues are just some of the locations where the Model 676 is designed to enhance security.



"A one-size-fits-all approach to security grilles is not workable for many properties. This is why the Model 676 not only provides security without a sacrifice to visual aesthetics and air exchange, but also lower maintenance requirements due to spring-less design that will minimize disruptions to operations," said Foeng Tjong, commercial product manager, rolling products. "At the same time, the Model 676 is designed to perform at a consistently high level over a long period of time, which is why it carries a five-year limited warranty on the motor and a two-year limited warranty on door components."



Rich in standard safety features, the Model 676 features a built-in stop-lock brake that guards against uncontrolled curtain travel, a reversing/sensing edge to prevent entrapment, and photoelectric safety sensors with guards to prevent sensor damage. Its curtain is composed of high-strength links, galvanized, solid steel rods without secondary link connections and aluminum spacer tubes. The RapidGrille™ AP Model 676, available in straight lattice and optional brick patterns, may also be ordered with aluminum links and spacer tubes, a complete stainless steel curtain or a powder-coated curtain.



The Model 676 features a spring-less design and a wear-resistant guide system to reduce daily wear and tear. The door's direct-drive gear system and a variable frequency drive eliminate jolting starts and stops. Its NEMA 4X control panel provides a built-in cycle counter and timer-to-close function, allowing for ease of operation while providing rich system diagnostics.



For more information about the RapidGrille™ AP Model 676, visit www.overheaddoor.com. Additionally, architects can find detailed dimensions, features and spec sheets for the Model 676 by visiting the Overhead Door Architect's Corner.



About Overhead Door

Overhead Door Corporation, based in Dallas, Texas, is a leading manufacturer of doors and openers for residential, commercial, industrial and transportation applications. The company has five divisions: Access Systems Division (ASD), which features the Overhead Door and Wayne-Dalton brands; The Genie Company, manufacturer of remote-controlled garage door opening systems; Horton Automatics, a manufacturer of automatic entrance systems; TODCO, the largest producer of truck doors for the transportation industry and Creative Door Services, Western Canada's leader in providing door products and services to the residential, commercial and industrial markets. Overhead Door Corporation created the original overhead garage door in 1921 and the first electric garage door opener in 1926. Overhead Door now employs more than 3,500 people, has 22 manufacturing facilities, 78 regional sales and service and installation centers and more than 5,000 distributors and dealers that service national builders, national accounts, architects, general contractors and homeowners, as well as major retailers in the U.S. and Canada. Overhead Door Corporation is a subsidiary of Sanwa Holdings Corporation of Tokyo, Japan. For additional information, visit www.overheaddoor.com, our Facebook page or follow us on Twitter.

More from Electronic Components & Devices