Security Camera provides high-resolution digital imaging.
Press Release Summary: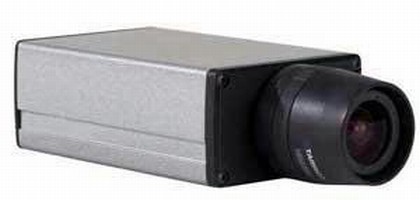 Suited for crowded environments, Model AVS-31MP surveillance camera has ability to zoom in and clearly recognize faces and license plates. High resolution image capture enables original images taken at significant distances to be played back on video and zoomed in on. Unit delivers data, and is controlled over and gets power from Ethernet network. It is equipped with 3.1 MP color camera for daytime imaging and 1.3 MP high-sensitivity monochrome camera for night/low light imaging.
---
Original Press Release:

Security Megapixel Camera: AVS-31MP



San Diego, CA, December 11, 2007 Audio Video Supply, Inc, a San Diego distributor first in surveillance systems, has introduced the new AVS-31MP high-resolution digital imaging surveillance camera from its new product line.

The AVS-31MP 3.1 Megapixel camera covers the same area as multiple analog surveillance cameras, lowering installation and maintenance costs and equipment investment. These high-performance network cameras deliver data, are controlled over and get power from an Ethernet network, further simplifying installation procedures and routine maintenance.

Audio Video Supply's AVS-31MP is particularly appropriate for crowded environments filled with people and vehicles, such as banks, airports and stadiums. The Megapixel camera has the ability to zoom in and clearly recognize faces and license plates makes them invaluable in guaranteeing safety for the nearby population. Because of the high resolution image capture, original images taken at significant distances are able to be played back on video with impressive zoomed in precision.

Audio Video Supply's superb pro-standard surveillance camera is ideal for high definition imaging at extended distances, while its companion camera is an excellent choice for day/night dual sensor camera. It is equipped with a 3.1 MP color camera for daytime imaging, and a 1.3 MP high-sensitivity monochrome camera for night or low light imaging. Other models include color cameras equipped with a two Megapixel sensor.

The AVS-31MP high-performance security camera is now available to order. For additional information please refer to our product page. To order, please call 858-565-1101. Audio Video Supply, Inc. is located at 4575 Ruffner Street, San Diego, California, 92111. On the web, www.avsupply.com

About Audio Video Supply, Inc.
About Audio Video Supply, Inc. is the North American distributor of surveillance systems as well as, CCTV Security, Machine Vision, Scientific Vision Systems, and professional broadcasting and a complete line of Medical, Broadcasting, and Industrial components. In business for over 35 years, AVS is well established and authorized to distribute a wide variety of name brand video equipment. In addition to cameras, Audio Video Supply also offers, lenses, digital video recorders (DVRs), LCD's, plasmas, professional camcorders, and a complete line of accessories. Design help for of CCTV Security Systems available for international customers and US. Website: www.avsupply.com

Company Information:
Name: Audio Video Supply, Inc.
Address: 4575 Ruffner Street
City: San Diego
State: CA
ZIP: 92111
Country: USA
Phone: 858-565-1101
Toll Free USA: 800-284-2288
FAX: 858-565-7845
http://www.avsupply.com

Contact Person: Wendy Leon wendy@avsupply.com

Sales Contact: sales@avsupply.com

More from Communication Systems & Equipment