Securitech Introduces New Bluetooth Entry Electronic Locks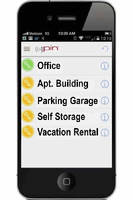 Partnership with ECKey adds Bluetooth link to popular LEXI and ELECTRA lineups



Anaheim, CA  – Securitech, the industry leader for innovative, purpose-driven locking devices, is announcing the availability of VIZpin®-enabled Bluetooth standalone access control in the Control Trim series of electric release door handles. This cost-effective, easy and flexible access control is now available for a wide range of applications, further enhancing the Control Trim's compatibility with the widest range of access control and keying systems.



The new products feature Bluetooth entry functionality from ECKey, the leader in cloudbased access control and visitor management, letting authorized smartphones be used as temporary or permanent keys. The new products are designed for both retrofit and new installations, and are ideal for replacing card or key access at apartment and campus building entrances, gate entrances, country clubs and marinas, and many similar locations to control access for employees, tenants, visitors, and vendors.



"Answering the call for innovative solutions to meet our customers' needs is the Securitech mission, and we are excited to be working with ECKey to deliver a locking solution that provides the ideal combination of extreme ease of use and high security," said Mark Berger, President and Chief Product Officer of Securitech Group, Inc.



Several of Securitech's most popular electrically released locks will be available in VIZpin-enabled models. Marketed under Securitech's Control Trim line, the VIZpin technology empowers a line extension of the LEXI exit device electric release trim and ELECTRA mortise, narrow stile and cylindrical locksets.



ECKey's Security-as-a-Service (SaaS) product enables the user to remotely send, revoke and monitor VIZpin electronic keys through a smartphone app or text message.



The Securitech Control Trim solutions, powered by VIZpin, eliminate most of the expense and administrative burden of traditional card/reader and keypad-based systems. It enables remote administration without the need for panels or complex IT networks, reducing installation costs by as much as 75 percent.



"The VIZpin-enabled Securitech products open up major market segments that were previously unserved by Electronic Access Control," added Paul Bodell, President and CEO of ECKey. "We are proud to be working with Securitech, another US-based manufacturer, who shares our commitment to quality and customer service."



For more information visit www.securitech.com or call 718-392-9000.



About Securitech

Established in New York City in 1983, Securitech® is an independent manufacturer of high-security door locks, and is recognized as an industry leader in the development of innovative solutions for emerging needs, including multi-point door locks, automatic deadbolt locking and electric locking solutions. Securitech is the first company to produce exit devices and locks to meet rigorous FEMA Windstorm testing standards. All Securitech product designs are driven by the needs of the end-user, security director and architect, and the company can deliver customized solutions on an individual facility basis. Securitech works closely with fire and life-safety officials to ensure that all products respect code requirements while providing the desired level of protection against forced entry and vandalism. Securitech products exceed UL and other standards - they have earned the hard-to-achieve "SB Tested" label; field-tested in the South Bronx to withstand the toughest levels of abuse.



About ECKey

ECKey designs, manufactures and markets a complete line of security access control systems and accessories that use your phone's unique Bluetooth signal to grant secure and convenient access. Our VIZpin service lets you send electronic keys to visitors through an easy-to-use web portal. ECKey is privately held and based in Lancaster, PA. All ECKey products are Made in the USA.



More from Controls & Controllers