Seaming Device secures stretch wrap film tails.
Press Release Summary: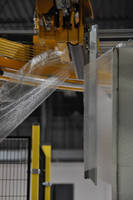 By eliminating film tail without contacting load, No Touch No Tail (NT²) provides perfectly finished wrap. Device works by seaming and cutting film away from product, minimizing waste and ensuring loads are properly secured during transportation. During last revolution in film cycle, counter-plate is placed between sealing element and load while cutting element cuts film. When released, film automatically retracts back to load to ensure efficient and effective load containment solution.
---
Original Press Release:

Muller Introduces No Touch No Tail (NT²) Upgrade for Octopus



--Provides Durable Solution for Consistently Securing Stretch Wrapped Film Tails--



Chicago, IL, – Muller , a leading manufacturer of both innovative equipment and material load containment solutions, introduces  a unique way to secure stretch wrap film tails with its No Touch No Tail (NT²) seaming device.  It is ideal for the most demanding applications and eliminates the film tail, without contacting the load. Muller has also taken this new technology, previously only available on new Octopus ring wrapping equipment, and made it available on Muller's former models.



"Loose or poorly secured film tails can cause a myriad of issues for manufacturers, including excess waste" says Tom Mutch, products and applications engineer, Muller.  The NT² provides a perfectly finished wrap, minimizing waste and ensuring loads are properly secured during transportation.  Customers utilizing automated storage and retrieval systems (AS/RS) are also challenged with loose film tails blocking sensors- creating further complications and/or stopping production.  "As is true with all Muller's offerings, the NT² helps customers save considerable time and money" says Mutch. "Its advanced capabilities eliminate the need to re-wrap pallets due to loose tails unraveling the load and there is no longer a need to manually affix tails."



The No Touch No Tail (NT²) works by seaming and cutting the film away from the product. This feature works especially well for rounded products, such as five-gallon pails or large coils, or for paper products that may be sensitive to a heat seal.  During the last revolution in the film cycle, a counter-plate is placed between the sealing element and the load while a durable cutting element is used to cut the film. When released, the film automatically retracts back to the load ensuring an efficient and effective load containment solution. The cutting element also requires minimal maintenance and reduces downtime.



"This is a great opportunity for current Octopus users to utilize the latest technology while on a fixed budget" says Mutch.



To see the application in action, watch the video at: http://www.mullerlcs.com/parts-service/retrofits



For general information about Muller contact directly via email: sales@mullerlcs.com, or by phone: 1-800-OCTOPUS (1-800-628-6787)



About Muller

Muller is a leading manufacturer of load containment solutions. Headquartered in Arlington Heights, IL, the company provides a single source to properly secure pallets. Muller's highly regarded Octopus™ stretch wrapper line, along with other reliable equipment such as the Cobra™ and Raptor™, provide customers with a wide range of solutions. Muller products are sold around the world under the brands Yellow Jacket, Haloila, Mima, GaleWrap, Lachenmeier and Lock n' Pop.



Christina Eyuboglu

Media and Marketing Consultant

Christina.Eyuboglu@gmail.com

919 378 9777

More from Fluid & Gas Flow Equipment