Seam Welder features forgiving weld parameters.
Press Release Summary: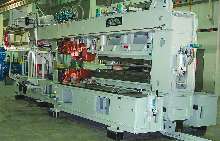 TWINLAP Seam Welder joins materials up to 84 in. wide, 3.5 mm thick full hard, and 4.0 mm thick soft material. User can achieve results of 2-pass operation with single pass of machine. Welder is offered with pneumatic or hydraulics and either single phase AC, or single or 3-phase DC weld control. It is primarily for automotive grade and difficult to weld full hard materials such as DP 600/800, HSLA, Silicon, Stainless, Trip, and other specialty alloy materials.
---
Original Press Release:

Twinlap Process Achieves Higher Quality Coil Joined Seam Welds


The Taylor-Winfield Corporation has developed and patented a TWINLAP welding process, which produces a higher quality weld with a wider range of variables than conventional seam, laser or arc welding processes. It allows the user to achieve the results of a two-pass operation (weld, anneal and planish) with a single pass of the machine. The process was developed primarily for automotive grade and difficult to weld full hard materials, such as DP 600/800 (Dual Phase), HSLA, Silicon, Stainless, Trip, and other specialty alloy materials. Unlike the critical process required for Laser welding, the TWINLAP process offers much more 'forgiving' weld parameters extending the range of materials that can be joined. Weld over-thickness is less with the TWINLAP than the other narrow-lap type process.

The TWINLAP Seam Welder joins materials up to 84" wide and 3.5 mm thick full hard and 4.0 mm for soft material. It is available with pneumatic or hydraulics and either a single phase AC, or single or three phase DC weld control.

For additional information you may contact:
The Taylor-Winfield Corporation
P.O. Box 500
Brookfield, OH, US 44403
Tel: 800/366-8861 Ext. 1512, Fax: 330/448-3538
e-mail: khilderbrand@taylor-winfield.com
web site: www.taylor-winfield.com

More from Packaging Products & Equipment