Seam Sealer is offered with camera and monitor system.
Press Release Summary: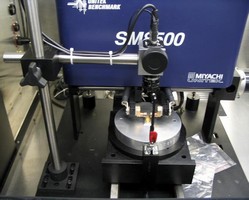 Model SM8500, available with camera and monitor, optimizes alignment of manually placed lids. When mounted to seam sealer, camera captures image of lid and mating part to form completely accurate lid tacking and sealing system. Lid hold down fixture holds lid in place during tacking (after alignment), and camera zoom facilitates setup for different lid sizes. Placed inside or outside glovebox wherever it is most convenient for user, monitor displays clear black and white images.
---
Original Press Release:

Unitek Benchmark Introduces a Camera and Monitor System for Lid Alignment for the SM8500 Seam Sealer



MONROVIA, CA - September, 2007 - Unitek Benchmark, a division of Miyachi Unitek Corporation, has introduced a camera and monitor system which greatly improves alignment of lids placed manually. The camera, which captures an image of the lid and mating part, can be mounted to an SM8500 seam sealer for a complete accurate lid tacking and sealing system. Once the lid is aligned, the SM8500 lid hold down fixture is used to hold the lid in place during tacking. Additional features and benefits include:

o Camera zoom enables quick setup for different lid sizes
o Monitor can be placed inside or outside a glovebox where ever most convenient for user
o A clear black and white magnified image is displayed on monitor.
o Camera stand easily adjusts to different heights if needed

Miyachi Unitek designs and manufactures a full range of resistance welding and reflow soldering power supplies, heads, monitors and accessories for both large scale and fine spot applications requiring precision metals joining, lasers and laser systems for welding and marking, and hermetic sealing systems, gloveboxes and environmental enclosures. The company offers applications and process development support at no charge. Company Headquarters is located at 1820 S Myrtle Ave., Monrovia, CA 91016. Contact Miyachi Unitek at (626) 303-5676 or by email at info@miyachiunitek.com. Miyachi Unitek may be found on the internet at www.miyachiunitek.com.

More from Communication Systems & Equipment