Air Cross Flow Heat Exchangers
Sealed Enclosure Coolers protect sensitive equipment.
Press Release Summary: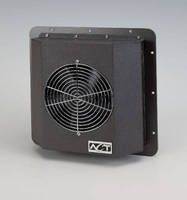 Available in 3 versions, Sealed Enclosure Coolers dissipate heat inside enclosures or cabinets that protect electrical/electronic equipment from harmful environments. HSC Series utilizes air impingement technology, while HPC Series is based on heat pipe heat exchanger technology and advanced fin features. LNC Series utilizes HSC-style air impingement heat sink to collect heat from hot inside air and larger extruded heat sink to dissipate heat to outside ambient via natural convection.
---
Original Press Release:

ACT Enters Sealed Enclosure Cooling Market



LANCASTER, Pa., -- Advanced Cooling Technologies, Inc. (ACT) announced today the launch of its HSC, HPC and LNC series of sealed enclosure cooler products. This launch is the first step of ACT's entrance into the sealed enclosure cooling market.



Sealed enclosure coolers are used to dissipate heat inside enclosures or cabinets that house and protect electrical/electronic equipment from harmful environments. These cabinets are typically sealed to a National Electrical Manufacturers Association (NEMA) standard. For example, a NEMA 12 cabinet is for indoor use and protects against drips, dust and falling dirt, while a NEMA 4 cabinet is for outdoor use and must be water tight. Sealed enclosure coolers are required to efficiently transfer heat from the inside space to the outside environment while maintaining the seal.



ACT's HSC series of coolers are based on a patent pending design that utilizes the air impingement technology that is thermally efficient and the heat sink components which have been perfected and are being mass produced and used by the computer industry. As a result, the HSC series offer some of the best performance/cost ratios among all sealed enclosure coolers.



ACT's HPC series of coolers are based on the popular heat pipe heat exchanger technology and incorporate advanced fin features for enhanced heat transfer performance. As a result, the HPC series offer some of the best performance/volume and performance/cost ratios among similar products.



ACT's LNC series of coolers are based on a patent pending design that utilizes a HSC-style air impingement heat sink to collect heat from the hot inside air and a larger extruded heat sink to dissipate the heat to the outside ambient via natural convection. Heat pipes are used to spread the heat from the smaller internal heat sink to the larger external heat sink. By reducing or eliminating the fans on the external side, the LNC series offer the lowest (or zero) noise performance.



"Sealed enclosure coolers are logical extensions of many products that we currently manufacture for satellite, defense, medical and HVAC applications," said Mr. Peter Dussinger, Vice President of Strategic Products at ACT. "We're very excited about bringing innovation to the sealed enclosure cooling market, starting with today's launch of these three products," continued Mr. Dussinger, "Stay tuned for our next product launches in the near future."



More information about ACT's sealed enclosure cooler products, including datasheets, user manuals, an online selection tool and an online purchasing system, can be found at: www.1-ACT.com/Enclosure-Cooling.



About ACT

ACT specializes in advanced thermal technology development and custom thermal product manufacturing. ACT designs and manufactures cold plates, HiK(TM) plates, heat pipes, pumped liquid and two-phase loops and thermal storage devices for customers in diverse markets including Aerospace, Electronics, Temperature Calibration, Medical Device, LED, and Energy Recovery Systems.



ACT's team consists of personnel with established track records in technology development, commercialization and production. Many of them were involved in the pioneering work on heat pipes, loop heat pipes and other single and two-phase heat transfer devices. They are the inventors/co-inventors on numerous U.S. and international patents and the authors/co-authors of hundreds of scientific publications.



ACT's facility measures more than 50,000 square feet, including office, laboratory and manufacturing spaces. With ISO9001 and AS9100 certified quality system in place, the facility has designed and manufactured high quality and cost effective thermal management solutions for dozens of mission critical satellite and military programs as well as for numerous commercial applications.



For more information about ACT, please visit www.1-ACT.com.



Media Contact

Amanda Hershey

Marketing Coordinator

E-mail: Amanda.Hershey@1-ACT.com

Phone: 717-295-6061

www.1-ACT.com/Enclosure-Cooling



Web Site: http://www.1-act.com

More from Agricultural & Farming Products