Sealed Crimp Splices tolerate high-temperature applications.
Press Release Summary: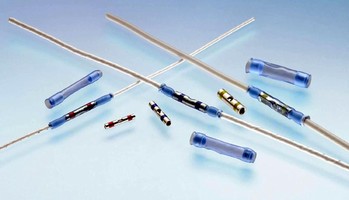 Featuring temperature rating of 200°C, D-200 MiniSeal Crimp Splices combine nickel-plated copper crimp barrel with separate, heat-shrinkable, transparent sealing sleeve that provides strain relief and environmental protection. They are available for wire range from 26-12 AWG and can be used to seal and protect high-temperature-rated wires with Teflon® insulation, such as RCW and BMS13-60 nickel-plated wires. Termination is with standard AD-1377 crimp tool.
---
Original Press Release:

Tyco Electronics Unveils Sealed Splices for High-Temperature Applications



- Smallest, Lightest, Most Environmentally Resistant Crimp Splices Available -

HARRISBURG, Pa. - April 7, 2008 - D-200 MiniSeal Crimp Splices from Tyco Electronics are ideal for aerospace and defense applications where performance, reliability, or size reduction is essential.

With a temperature rating of 200°C, the splice combines a nickel-plated copper crimp barrel with a separate, heat-shrinkable, transparent sealing sleeve that provides strain relief and environmental protection. These splices preserve electrical integrity by preventing the penetration of liquids and the resulting chemical and galvanic corrosion and potential short circuits.

D-200 MiniSeal crimp splices offer the following significant advantages over alternative methods:

Reliability
Excellent long-term performance
Environment-resistant sealing
SAE-AS81824/1 (modified for 200°C applications) qualification

D-200 MiniSeal splices are available for a wire range from 26 AWG to 12 AWG and can be used to seal and protect high temperature rated wires with Teflon insulation such as RCW and BMS13-60 nickel-plated wires. Termination is with standard AD-1377 crimp tool.

For more information on Tyco Electronics D-200 MiniSeal Crimp Splices, contact Tyco Electronics' technical support center at 800-522-6752, or send email to newproducts@tycoelectronics.com.

ABOUT TYCO ELECTRONICS

Tyco Electronics Ltd. is a leading global provider of engineered electronic components, network solutions, wireless systems and undersea telecommunication systems, with fiscal 2007 sales of US$13.5 billion to customers in more than 150 countries. We design, manufacture and market products for customers in industries from automotive, appliance and aerospace and defense to telecommunications, computers and consumer electronics. With approximately 8,000 engineers and worldwide manufacturing, sales and customer service capabilities, Tyco Electronics' commitment is our customers' advantage. More information on Tyco Electronics can be found at http://www.tycoelectronics.com/.

MiniSeal, TE Logo and Tyco Electronics are trademarks.

Teresa Wilson
Aerospace & Defense MarCom - No. America
Tyco Electronics
2900 Fulling Mill Road
Middletown, PA 17057
Mail Stop 258-23
Phone: 717-592-2339
E-mail: tawilson@tycoelectronics.com

More from Agricultural & Farming Products