Sealed Air Shrink Film eliminates fog from packaged produce.
Press Release Summary: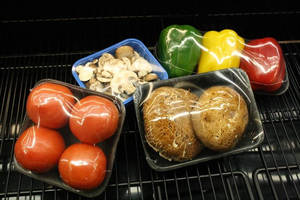 Offering alternative to PVC in cold chain/fresh produce goods packaging, Cryovac® CT-311 prevents water droplets (fog) from accumulating inside of film and clouding package contents. This 35-gauge, microwaveable, micro-layered, anti-fog shrink film, with Recycle Code 4, does not contain plasticizers typically used with PVC films. Film allows fresh produce to be packaged and distributed to retailers from central location, minimizing risk of cross-contamination at store level.
---
Original Press Release:

New Sealed Air Shrink Film Clears the Fog Around Produce Packaging



Cryovac® CT-311 shrink film introduces thinner anti-fog alternative to PVC for produce market



ELMWOOD PARK, N.J. — With today's release of Cryovac® CT-311 anti-fog shrink film, Sealed Air has opened a clearer path for processors to achieve better performing and more sustainable fresh produce packaging.



The latest addition to Sealed Air's award-winning line of Cryovac® Technology (CT) shrink films, CT-311 is the market's first micro-layered anti-fog  shrink film, as well as its thinnest. Primarily used to package cold chain produce goods including mushrooms, corn and peppers, CT-311 film prevents water droplets (or "fog") from accumulating inside of the film and clouding package contents. Maximizing optic properties by eliminating fog holds great value for both consumers and retailers – recent Sealed Air consumer testing found that product presentation trails only protection and contamination prevention among desired produce packaging priorities. Additionally, CT-311 shrink film accommodates growing demand for a microwaveable and thin-gauge anti-fog film, allowing consumers to heat products wrapped in this film directly in the package.  Further, CT-311 does not contain plasticizers that are typically used with PVC films.



"With the release of our new CT-311 shrink film, Sealed Air further demonstrates our commitment to continuous innovation," said Reid Kennedy, marketing director, shrink packaging solutions for Sealed Air's Product Care Division. "CT-311's combination of excellent optics, increased performance and microwave compatibility delivers the most complete shrink material available for fresh produce, all while enabling packagers to reduce their material usage."



The 35-gauge CT-311 shrink film is not only one of the thinnest materials available in Sealed Air's shrink portfolio, but also ranks among the thinnest available in the wider marketplace. Compared with standard 60-gauge PVC film, CT-311 shrink film enables packagers to reduce their material usage by up to 20 percent and material weight by up to 67 percent (for an 8 oz. package). In partnership with the Sustainable Packaging Coalition and its how2recycle program, CT-311 shrink film (Recycle Code 4) qualifies for the new local store drop-off category and can be collected at numerous nationwide locations.



In addition to source reduction, CT-311 shrink film offers other significant environmental advantages compared to PVC film. According to a recent, third-party verified life cycle analysis CT-311 has a 64% lower carbon footprint and a 64% lower cumulative energy demand(1) than 60-gauge PVC.



"CT-311 shrink film is the latest technology to exemplify our SmartLife™ approach to sustainable packaging, which emphasizes efficient protection through innovative materials that reduce cost and overall environmental footprint for users," added Kennedy. "We've received excellent feedback from internal consumer testing and industry analysis thus far, with a significant audience expressing preference for CT-311 shrink film when compared with PVC overwrap. We look forward to delivering these shrink benefits to a wider marketplace."



Beyond its sustainability and potential cost advantages, CT-311 shrink film promotes safer food handling across the production, retail and consumption lifecycle. This new film enables fresh produce to be packaged and then distributed to retailers from a central location, minimizing the risk of cross-contamination at the store level.



To learn more about Sealed Air's CT-311 anti-fog film, and its overall shrink packaging portfolio, visit www.shrink-pkg.com.



About Sealed Air

Sealed Air Corporation creates a world that feels, tastes and works better. In 2013, the Company generated revenue of approximately $7.7 billion by helping our customers achieve their sustainability goals in the face of today's biggest social and environmental challenges. Our portfolio of widely recognized brands, including Cryovac® brand food packaging solutions, Bubble Wrap® brand cushioning and Diversey™ cleaning and hygiene solutions, ensures a safer and less wasteful food supply chain, protects valuable goods shipped around the world, and improves health through clean environments. Sealed Air has approximately 25,000 employees who serve customers in 175 countries. To learn more, visit www.sealedair.com.



(1) Cumulative energy demand is a measure of the direct and indirect energy use throughout the film's life cycle, including the energy consumed during the extraction, manufacturing and disposal of the raw and auxiliary materials.  In addition, CT-311 has 22% lower cumulative energy demand than the thinnest competitive anti-fog shrink films on the market.



Jamie Cwalinski

Account Executive

jamie.cwalinski@mslgroup.com

1170 Peachtree Street NE

Atlanta Georgia, 30309

T: 1-404-877-5534

M: 404-664-2092

More from Material Processing