Position Sensors / Detectors / Transducers
Sealed AC-LVDTs offer 0.01% (full scale) repeatability.
Press Release Summary: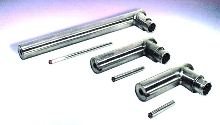 HSAR 750 Series AC-in/AC-out Hermetically Sealed AC-LVDTs are constructed of stainless steel for environmental robustness. These 3/4 in. position sensors feature radially-mounted electrical connectors, which permit through-bore operation. LVDTs are accessible from both ends to permit mechanical support and core guidance, and are open at both ends for cleaning. They are offered in full scale measurement ranges from ±0.050 in. through ±10.00 in.
---
Original Press Release:
Hermetically Sealed AC-LVDTs Operate in High Temperature Extremes

Hermetically Sealed AC-LVDTs
Operate in High Temperature Extremes

Pennsauken, NJ, November, 2001...Macro Sensors new HSAR 750 series of hermetically sealed AC-LVDTs operate in hostile environments with extreme temperature variations. Constructed of stainless steel for environmental robustness, these 3/4" (19mm) position sensors are ideal for linear motion control, machine tools, factory automation and general position measurement applications.

A radially-mounted electrical connector permits through-bore operation with these significant results:

* The LVDTs are accessible from both ends, permitting much better mechanical support and core guidance than with blind-bore hermetically sealed units.

* Open at both ends, the LVDTs can be easily cleaned of grit, dirt, dust or other contaminants for greater reliability and longer life.

* The radial connector makes the installed length of the HSAR LVDTs at least 2" shorter than comparable units with an axially mounted connector for easier installation in tight spaces.

The HSAR 750 series AC-in/AC-out LVDTs feature high resolution, excellent repeatability typically better than 0.01% of full scale and non-linearity less than 0.25% of full range output. They are also rated for operation in temperatures up to 220°F (105°C). These features make the HSAR units ideal for position
measurement in automotive factories, forges and foundries, metal fabricating machinery, paper and plastic film plants, sawmills, process automation applications and all types of motion control systems.

Macro Sensors offers the HSAR 750 series in standard full scale measurement ranges of ±0.050", +0.10", +0.25", ±0.50", +1.00", +2.00", 3.00", +4.00", ±5.00", +7.50" and ±10.00". The company also supplies a full line of support electronics including OEM modules, DIN-rail mount power line- and DC-operated signal conditioners and digital display and control instruments.

Pricing for the HLAR-750 series range from $305 to $794, depending on range, based on quantities of one to two units. Quantity discounts available. For complete price and delivery information, please contact Eileen Ellis, Inside Sales Manager, at 856-662-8000 or by email at sales@macrosensors.com. For complete specifications on all our sensor products, go to our web site at www.macrosensors.com.
More from Controls & Controllers