Sealant Detection Kit prevents damage to recovery equipment.
Press Release Summary: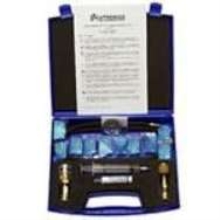 Suited for both R134A and R12 systems, QuickDetect A/C Sealant Detection Kit includes A/C coupler, hose, test cartridge, and flow meter. When connected to mobile A/C system, it mimics A/C leak. If sealant is present in system, it will quickly solidify in disposable test cartridge and cause flow meter to show no-flow. Except for test cartridges, all Quick Detect components are reusable. Additional cartridges are available separately.
---
Original Press Release:

Neutronics QuickDetect(TM) A/C Sealant Detection Kit Prevents Damage to Valuable Recovery Equipment


Exton, PA...Neutronics Automotive, a leading manufacturer of Automotive A/C service technology now offers an exclusive innovation for A/C technicians and shop owners that protects refrigerant identifiers and recovery machines against damage by immediately detecting presence of harmful sealants in mobile A/C systems. The Neutronics QuickDetect A/C Sealant Detection Kit is easy to use and works on both R134A and R12 systems

According to Peter Coll, Neutronics National Sales Manager, "The Neutronics QuickDetect A/C Sealant Detection Kit is an indispensable tool for every A/C technician. Every A/C system should be checked for sealant before attempting recovery or repair. This will help avoid equipment damage and revenue loss."

Sealants can void warranty
Both professional technicians and vehicle owners are routinely using sealants in mobile A/C systems. Most of these A/C sealants react with moisture and air to create a seal. They are carried through the system by the refrigerant oil and escape through the hole in the system and solidify to form a seal. These sealants can enter A/C components and A/C service equipment and cause damage by solidifying in the solenoids and tubing. In many cases, manufacturers of A/C components and recovery equipment are voiding warranties when damage has been caused by A/C sealant.

Unique, simple-to-use design
The Quick Detect system comes with everything needed for a quick and easy test - A/C coupler, hose, test cartridge, and flow meter. When connected to the A/C system, Quick Detect is designed to mimic an A/C leak. If sealant is present in the system, it will quickly solidify in the disposable test cartridge and cause the flow meter to show "no flow". Except for the low-cost test cartridges, all of the Quick Detect components are reusable. Additional cartridges are available separately.

Neutronics QuickDetect A/C Sealant Detector Kit, Model No. ACSD comes complete with (10) Test cartridges, R134A and R12 couplers, a test hose, flow meter, syringe, and detailed instructions in a custom molded carrying case. Replacement cartridges are available separately in 25 piece packs - Model No. ACSD-25. Kit and replacement parts are available from most tool & equipment distributors.

For additional information, please contact Peter Coll, Automotive Sales Manager, Neutronics Inc., 456 Creamery Way, Exton, PA 19341, 610-524-8800 or toll-free 800-378-2287. info@refrigerantid.com

More from Chemicals & Gases