Seafood Processing Blades increase yield and reduce waste.
Press Release Summary: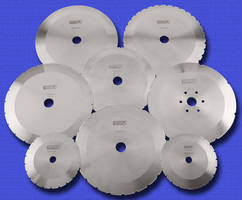 Constructed of stainless steel, Hyde IBS Seafood Processing Blades accommodate needs of fresh and salt water seafood processing. Microfinish lends to corrosion resistance while also reducing friction during cut and tendency of fish and waste products to stick to blade. There are 29 sizes available from 3.54-11.81 in., and these circular blades can be re-sharpened. Special edge coatings may also be applied to increase cutting edge hardness.
---
Original Press Release:

New Seafood Processing Blades Stand up to Tough Plant Conditions to Increase Yield and Reduce Waste



Southbridge, MA - A full range of high performance, circular seafood processing blades is available from Hyde Industrial Blade Solutions, a division of Hyde Tools, Inc. Hyde IBS Seafood Processing Blades are suitable for both fresh and salt water processing and designed to outperform competitive blades by employing the highest manufacturing and quality control standards in their design and production.

Starting with the highest grade stainless steel, Hyde employs proprietary processes to impart a low or "smooth" Ra microfinish providing excellent corrosion resistance to the conditions found in seafood plants. This finish reduces friction during the cut and reduces the tendency of fish and waste products to stick to the blade. Cleaner blades last longer and cut more efficiently producing more yield and less waste.

Manufactured in facilities with ISO 9001:2008 plant certification, durable Hyde IBS Seafood Processing Blades come in twenty-nine (29) different sizes ranging from 3.54" (90 mm) to 11.81" (300 mm) and can be re-sharpened. Individual circular blades up to 17" in diameter are also available for applications such as canning. Scraping, incision, skinner and straight blade configurations are also available. Special edge coatings can also be applied to further increase cutting edge hardness for longer blade life.

Hyde IBS brings extensive experience and "real world" applications knowledge across multiple food processing markets, processes and environments including poultry, red meat and pork, fish, fruit, vegetables and grains, candy and specialty foods. Hyde blades come in a variety of configurations for cutting, dicing, skinning, derinding, grinding, slicing, slitting, tenderizing and a multitude of other applications to suit individual market and production requirements.

Hyde IBS's entire line of Food Processing Blades come in a variety of stocked standard shapes, forms and sizes including circular blades and knives, straight blades and knives and propeller blades. Hyde also specializes in the design and manufacture of custom blades for specific and unique food processing applications.

Backed by 135 years of experience, Hyde Industrial Blade Solutions is a leading producer of industrial knives and blades for a wide variety of markets including food processing, cloth and textile and leather, hose and tube, tire and rubber, package converting, paper and packaging and abrasives as well as for general industrial applications. Hyde Tools, Inc. is the largest manufacturer of industrial machine and hand knives and tools for remodeling, restoration, building trades and do-it-yourselfers in North America.

For more information on Hyde IBS Seafood Processing Blades, contact Hyde IBS, 54 Eastford Road, Southbridge, MA 01550. Phone: 800-872-4933. Or visit our website at www.hydeblades.com

More from Cleaning Products & Equipment