Screw Pliers Solve Problems with Powerful Grip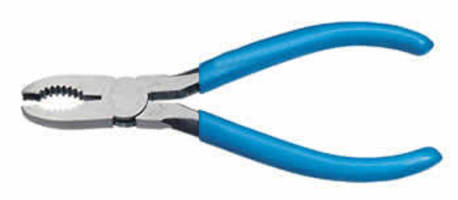 Aven introduces innovative tool to release broken or frozen screws

ANN ARBOR, MI - March 16, 2009 - A forceful, versatile hand tool simplifies tough industrial maintenance tasks: turning screws that are stripped, rusted, damaged or stuck.

A patented design on the professional-grade Screw Pliers creates gripping and torque strength that easily turns challenging screw heads. Three sizes of the innovative device are the latest product line addition by Aven, Inc., a Michigan supplier of high-performance assembly, diagnostic and maintenance tools.

Slender steel jaws and a rounded nose let the Screw Pliers securely grab any screw - even with a broken-off head - firmly enough to twist. Unlike ordinary pliers, which have horizontal jaw serrations that slip off immobilized screws, this version applies angled and vertical teeth to maximize friction of the jaws against anything they grip.

"There's no need to haul out an extractor kit or to risk equipment damage," says Mike Shahpurwala, president and chief marketing officer at Aven. "Our small item delivers big savings in time, frustration and potential repair or replacement costs."

Screw Pliers are manufactured by Engineering, Inc., a leading industrial supplier in Osaka, Japan. It uses the brand name "Neji-saurus," combining the Japanese word for screw (neji) with a reference to the tool's strong, dinosaur-like jaws.

In addition to releasing troublesome fasteners that seem frozen, Screw Pliers also are ideal for screws that are bent or have non-standard heads with special slots or no slot. This toolbelt essential even conquers some tamper-proof screws. "It's much easier than using locking grip pliers or repeatedly trying different screwdrivers," notes Shahpurwala. "And it beats a power driver by sliding into tight spots to firmly grab tiny screws."

Screw Pliers are practical for machine shops, metalworking, production plants, fabricators and vehicle maintenance facilities.

The premium-quality device is made from high-alloy steel hardened to HRC 54-58. Rubber-coated handles allow high-pressure gripping comfortably.

A standard model, which is six inches (150mm) long, handles M1.6 to M4 screws. A second-generation XP model is an inch longer, features slip-joint structure and adapts for larger fasteners -- M1.7 to M6 on the ISO metric screw standard. For the smallest jobs, a pocket-size model that's 4.75 inches (120mm) long is ideal for M2 or smaller screws

"Screw Pliers are so handy that some production managers and maintenance supervisors order them for every technician," says Shahpurwala at Aven.

Aven, Inc. is a source of high-performance precision tools and optical inspection systems for industrial, scientific, research and education applications. Product lines include alignment tools, video inspection systems, magnifiers, precision knives, pliers and cutters, illumination equipment and other workbench solutions. An electronics innovator since 1983, Aven is located in a high-tech corridor of Southeast Michigan and is the parent company of SharpVue, which designs and manufactures integrated digital microscope technology.

Visit Aven's booth at Pittcon in Chicago's McCormick Place from March 9-12.

For more information, call Aven at (734) 973-0099 or see www.aveninc.com for a digital catalog and video demonstrations.

More from Software