Screw-Holding Screwdriver extends reach into tight spaces.
Press Release Summary: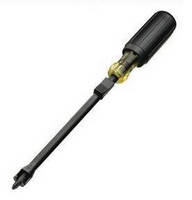 Suited for contractors, electricians, and auto mechanics, Professional-Grade Screwdriver features thermoplastic Grip-n-Twist(TM) screw-holding mechanism that runs entire length of 7 in. tempered steel shaft. Spring-action locking system engages and disengages screws with thumb movement, letting user set, start, and tightly fasten screw with one hand. Available in Phillips and Slotted versions, screwdriver has cushion-grip handle and slip-resistant tip.
---
Original Press Release:
IDEAL Screwdriver with New Grip-n-Twist(TM) Screw Holder Securely Extends Reach into Tight Spaces
SYCAMORE, IL, -- Fastening screws into tight, hard-to-reach places is a challenge. Unfortunately, most screw-holding screwdrivers on the market today are poorly designed or difficult to use. To help contractors, electricians and auto mechanics with this task, IDEAL today introduced a professional-grade screwdriver featuring its new Grip-n-Twist(TM) screw-holding mechanism. This spring-action locking system engages and disengages screws with a simple thumb movement, letting the user set, start and then tightly fasten a screw with one-handed ease. Besides delivering speed, security and greater torque, the thermo-plastic Grip-a-Twist runs the entire length of the 7" tempered steel shaft for improved durability. "Every contractor knows the frustration of reaching into a tight spot to install a screw, only to have it fall off the screwdriver again and again," explained Bruce Hartranft, Product Manager for IDEAL. "Our newly designed screwdriver completely eliminates this problem by securely holding the screw until it is fully installed." The new screwdriver meets the needs of the worksite with a cushion-grip handle that furnishes the user with ergonomic comfort and superior driving force, along with a slip-resistant tip for a firm hold into the screw slot. The screwdriver is available in Phillips (part #35-406) and Slotted (part #35-404) versions. For more information, please visit www.idealindustries.com or call 800.435.0705. Follow us on Twitter at www.twitter.com/ideal_sycamore. ABOUT IDEAL INDUSTRIES, INC.
IDEAL INDUSTRIES, INC. has been serving the electrical industry since 1916. IDEAL is one of the world's leading manufacturers of professional quality tools and supplies serving installation professionals in the construction, maintenance, data communications and original equipment manufacturing industries. ©2010 IDEAL INDUSTRIES, INC. All rights reserved. All products and names mentioned are the property of their respective owners. While IDEAL has made every effort at the time of publication to ensure the accuracy of the information provided herein, product specifications, configurations, prices, system/component/options availability are all subject to change without notice.
More from Machinery & Machining Tools