Screw Compressors are available in 10 and 20 hp models.
Press Release Summary: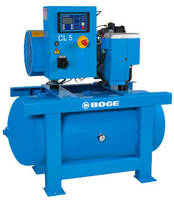 Boge CL 10 and CL 20 screw compressors feature high-performance damping and lamellar graphite casting which ensure silencing that produces sound pressure levels as low as 59 dBA. Featuring compact design suitable for workshop environments, devices are available in standard pressure of 150 psi and with output capacity range from 37-79 cfm. Components and parts are accessible from one point, simplifying service and maintenance.
---
Original Press Release:

Boge Extends Range of Small Screw Compressors



Boge America, Inc. has recently extended the popular CL series range by introducing 10 and 20 HP models. The new models embody all the advantages gained from the existing range; very low sound pressure levels, maintenance friendly construction and a small footprint making them the ideal choice for the smaller industrial user.

The CL series from Boge has long since been a popular choice with the smaller industrial compressed air users such as workshops and garages where these small and quiet screw compressors have been the ideal solution.

Boge has now expanded the CL series range by introducing two new models, the Boge CL 10 and CL 20 which extend the power band on this range up to 20 HP.

The CL Series is noted for its very low sound pressure levels, high performance damping and lamellar graphite casting ensure highly effective silencing producing sound pressure levels as low as 59 dB(A), making it ideal for point of use applications as well as a premium OEM choice.

The compact design further ensures a small footprint providing a space saving solution ideal for the workshop environment where space is at a premium.

All components and parts are easily accessible from one point allowing service and maintenance work to be carried out in a hassle-free manner.

The Boge CL series has always offered great value for money and has already proven to be a winner in its class where reliability and longevity are prerequisites for the end users.

The new CL series models are available in the standard pressure of 150 PSI. Output capacities range from 37-79 cfm, motor power 10 and 20 HP. For more information visit http://www.boge.com/us

BOGE Amercia, Inc. is the American Daughter Company of BOGE International GmbH based in Bielefeld, Germany. BOGE manufactures a comprehensive range of oil lubricated and oil free screw and piston compressors used by all sectors of industry to supply compressed air for a wide range of manufacturing processes. It also supplies a complementary range of filters, dryers and condensate management equipment. The product is sold and serviced through a growing network of dedicated distributors throughout the USA and Canada.

BOGE America, Inc.

3414 Florence Circle, Suite 100, Powder Springs, GA 30127

Telephone: +1 (0) 770-874-1570 Facsimile: +1 (0) 770-874-1571

E-mail: usa@boge.com Website: http://www.boge.com/us


More from Packaging Products & Equipment