Screeners provide high-capacity grain cleaning.
Press Release Summary: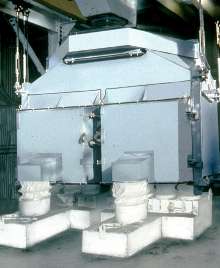 Megatex Screeners utilize long stroke, low frequency gyratory motion and system of resilient balls, which keep screen mesh from blinding. They clean grain down to dockage levels as low as .03% without secondary cleaners. Horizontal, gyratory motion quickly stratifies fines down against screen opening without remixing. Screeners can be operated with 1 or 2 deck separations with only simple screen change, allowing facilities to handle multiple grains.
---
Original Press Release:

Rotex® Screeners Designed for High Capacity, Highly Efficient Grain Cleaning


CINCINNATI, OH (August 21, 2003) - Growing demands by customers and government agencies for the higher levels of grain quality have heightened the importance of precision grain cleaning methods. Fines, dust and dirt must be removed to far more critical tolerances than ever before, and at higher production rates.

Rotex Grain Cleaners are engineered specifically for difficult grain cleaning applications. By utilizing a long stroke, low frequency gyratory motion and a system of resilient balls which keep the screen mesh from blinding, Rotex screeners are able to produce the accuracy required at very high production rates, using less screen area than other types of equipment. The Megatex screeners can clean grain down to dockage levels as low as .03% without the use of secondary cleaners.

The horizontal, gyratory motion so positively associated with the popular Rotex screeners quickly stratifies the fines down against the screen opening without remixing because the fines are positively conveyed over the screen, resulting in maximum removal.

The versatility of the Megatex allows a sire to operate the Megatex with either 1 or 2 deck separations with only a simple screen change. This allows facilities to handle multiple grains with ease.

With a lower silhouette than other screeners, Rotex Grain Cleaners offer the advantages of lower headroom for operation in confined spaces and little space is required around the machines for maintenance and screen changes.

Dependable, efficient Rotex screeners have been used successfully for more than 40 years in the feed and grain industries. They are available in many standard models for scalping, fines removal or a combination of both to meet the most exacting grain cleaning requirements.

ROTEX INC. engineers and manufactures a full line of screening equipment including Rotex® Screeners and high capacity Megatex(TM) Screeners for particle size separation of grains, minerals, plastics and other dry solids; Gradex(TM) Particle Size Analyzers; and Liquatex® Liquid/Solid Separators. The company serves a global market in such industries as chemical processing, food processing, mineral processing, plastics compounding and agribusiness. ROTEX-xpress offers a full range of parts and rebuild services available through Rolex headquarters in Cincinnati, OH.

To find out more about all the ways Rotex Grain Cleaners can meet the toughest cleaning requirements, contact your local ROTEX representative or applications specialists at ROTEX INC., 1230 Knowlton St., Cincinnati, OH 45223, www.Rotex.com, (800) 453-2321. Fax (513) 346-5454 or e-mail info@rotex.com.

More from Machinery & Machining Tools