Screeners are suited for fertilizer industry.
Press Release Summary: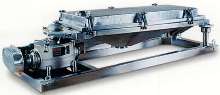 Rotex Screeners deliver consistent particle size control utilizing gyratory-reciprocating motion with near horizontal screen surface combined with positive screen mesh cleaning system. Product line includes 100 models ranging from 1-5 screen surfaces for separations with openings from ½ in. to 325 mesh. It is suited for use in production, polishing, and various points of distribution, storage, load out, and delivery within fertilizer industry.
---
Original Press Release:

Rotex Screeners Take Root in Fertilizer Industry


CINCINNATI, OH (November 16, 2004)-Manufacturers of fertilizer will increase profit and further growth through an improved screening process available from Rotex. Rotex Screeners provide a high ROI by delivering consistent particle size control at substantial capacities. Their ability to maintain close tolerances at high volume insures accuracy while supporting tight production schedules.

"The fast speed of production and level of quality we've achieved by utilizing Rotex screeners in our operation have made a significant contribution to our success," says John Smith, Operations Manager for Smith Fertilizer, Inc.

Rotex Screeners feature a unique, gyratory-reciprocating motion utilizing a long stroke and a near horizontal screen surface, combined with a positive screen mesh cleaning system that deliver both high efficiency and high product yield. The screens also feature other innovations that provide unparalleled performance, ease of operation and durability for manufacturing environments.

"Consistency and predictability of granule size are important factors for an even distribution from broadcast spreaders and to reduce the re-separation of blended fertilizers," says Tom Jones, process engineer at Smith Fertlizer, Inc. "Rotex Screeners deliver the accuracy we need to maintain the SGN and UI our customers require." Effective screening impacts the fertilizer industry in several areas: in production, polishing, and at various points of distribution, storage, load out, and delivery. Rotex's comprehensive product line includes over 100 standard models ranging from one to five screen surfaces for separations with openings from ½" to 325 mesh.

"The Rotex Screener is a valuable resource in our production arsenal," says John Smith. "It's fast, reliable and durable enough to handle our production environment. And it has quickly paid for itself."

Rotex Screeners contribute to profits in three specific ways:

o Higher Yields: Through increased screening accuracy, Rotex screeners maximize the recovery of on-size product from the material being screened.

o Consistent On-Spec Quality: On-spec particle distribution in the finished product results from highly efficient fines removal.

o Less Reject of Good Material: Accurate screening reduces the amount of usable product in the rejects.

An online wizard at rotex.com/contact/wizard.isp lets you calculate potential savings.

ROTEX Inc. has provided screening solutions globally, to customers in the food, chemical, plastics, agricultural and mineral industries for over 90 years. Smart Solutions from ROTEX include Rotex® Screeners; high capacity Megatex(TM) Screeners; the new Minerals Separator, Gradex(TM) Particle Size Analyzers; the Plastic Pellet Screener; LIQUATEX®, Liquid/Solid Separators; as well as Rotex Parts & Service capabilities.

For more information contact ROTEX Inc., 1230 Knowlton St., Cincinnati, OH 45223, www.rotex.com, (800) 453-2321, Fax (513) 541-4888 ore-mail info@rotex.com.

Related