Screen Enclosures Provide Opportunities for Indoor Fun - Outdoors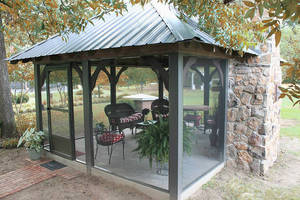 TUSCALOOSA, Ala. - Fall may be turning to winter, but there's still time to enjoy those last sunny days before the harsh chill settles in. Heat up some fun in your outdoor room, whether lounging by the fireside, watching a football game or simply relaxing and taking in nature's splendor!

Phifer Incorporated offers a variety of options for screen enclosures - fiberglass, aluminum, bronze or stainless - in a range of colors and a variety of mesh sizes, down to the tiniest holes that prevent the entry of even the smallest pests. Looking for the best in visibility, pet resistance or antimicrobial features? Phifer has it all.

One of the newest to Phifer's screening lineup, BetterVue® Improved Visibility Insect Screen (iVis) is ideal for all screening applications - windows, doors or porches. BetterVue's increased openness and smaller yarn diameters offer increased protection against small insects and maximize the outward view, making it sharper and more brilliant.

For more information about Phifer's insect screening products, call Phifer at 205-345-2120, visit phifer.com/Fenestration.aspx or e-mail inquiries through the Web site at www.phifer.com.


More from Machinery & Machining Tools