Scrap Handler has lifting radius up to 68 ft 10 in.
Press Release Summary: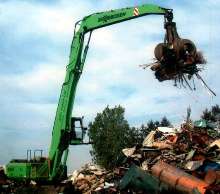 With operating weight of 125,600 lb, rubber-tired 850 M C Series incorporates hydraulic cab that elevates up to 19 ft. Other cab options include hydraulic elevating and forward moving as well as fixed elevated cabs. It utilizes computer-less hydraulic system and water-cooled Caterpillar C9 diesel engine that produces 313 hp at 2,000 rpm. All regular maintenance points are accessible from ground, and swing speed is infinitely controllable from 0-6.5 rpm.
---
Original Press Release:

Recycling Yard "Looks Back to Move Forward" with Sennebogen Scrap Handler


LONDON, ON - For George and Bruce Zubick, the arrival of their new SENNEBOGEN 850 M material handler was a welcome step backward for their equipment fleet!

Bruce and George are Co-Owners and Managers of John Zubick Ltd., Scrap Metals, a large recycling yard that has operated in London, Ontario for over 50 years.

Bruce has purchased and run all kinds of heavy equipment through his time in the business, but he's not entirely pleased with the direction some machine manufacturers have been taking with their equipment design lately. "In order for us to go ahead, we have to go back," Bruce claims. "Manufacturers have deemed that, to advance their technology, they have to computerize. But on heavy equipment like this, it's not compatible. We have to go back to simplicity, back to "operator friendly" - and SENNEBOGEN offers this."

The Zubick fleet includes several heavy-lift machines, including cranes and material handlers, plus a full complement of loaders and trucks, a mobile shear and a baler. The traffic in and out of the yard is a constant stream; not a moment goes by with a load of metal passing through the gate. Bruce has little time or patience for downtime.

"When you buy a new piece of hydraulic equipment, you spend a lot of money on it and you expect it to perform without downtime. We have one piece of equipment, a year old, that has a computer board in it. We've had to replace the board twice. Each time, the machine was down for 1 ½ days to get repaired." With the volume of material that Zubick handles, any downtime for the material-handling equipment means costly backups for the trucks in the yard and for customer orders.

"SENNEBOGEN realizes that a machine is designed to start up and go to work," he continues. "Putting a high-tech computer on an industrial piece of equipment like this, it just doesn't match."

The "green machine" in the Zubick yard is the world's first SENNEBOGEN 850 M rubber-tired material handler. Bruce got a first look at his 850 M at the 2004 ISRI Show in Las Vegas, where SENNEBOGEN staged the worldwide debut of the new 125,000 lb. machine. After the show, the 850 M was shipped from ISRI to Zubick, where it has been at work since last May.

"Every time we require another piece of equipment, we assess the job application and go from there," Bruce explains. "We knew we wanted a rubber-tired machine. Joel Paikin, from Top Lift, showed us the 835 at last year's CARI (Canadian Association of Recycling Industries) convention in Halifax, Nova Scotia, then he gave us a demonstration at one of the scrap yards in this area. I liked the way they had it laid out, its accessibility, simplicity... the way it was built, the way it was designed. So based on the 835, and also the fact that SENNEBOGEN has been in business over 50 years, I reached out in a leap of faith and decided this would be the unit."

The Zubick yard covers a 24-acre tract in the east end of the city. Bruce prefers wheeled machines for his operations, noting that the wheeled units are more agile than their tracked counterparts and are a lot easier on his driveways. The 850 M is equipped with 1.5-yard mag-grab, Bruce's choice for allowing the operator to "clean up after himself without climbing down from the cab to change attachments.

According to Bruce, the SENNEBOGEN 850 M model was a better choice than the 835 M for his application because of its higher lift capacity and its longer reach. "This unit has the capability to sit behind a 48' trailer and reach right to the front to unload it", he says. And the machine's operator, Gord Grayson, agrees. Gord also appreciates the hydraulic SENNEBOGEN cab, which will elevate up to 19 feet to give him a better vantage point on the loads he's lifting.

"It's good for looking into the trailer; on a machine I used to run, the old cables would get in front of you, you'd be loading blind and banging the sides of the trucks! The cab is big, too -- you don't get cramped up in it. In the other machine, after a while, you had to get out and stretch your legs. This one gives you better visibility, too, and it's more comfortable. The hydraulics is quicker and it gets a bigger grab. Yeah, they built a good machine; it's smooth."

As the chief mechanic at Zubick, Jason Dawe works on "pretty much every breed of machine there is." And he's as impressed with the SENNEBOGEN machine as the rest of the Zubick team. "Top Lift, (the SENNEBOGEN dealer in the area,) did the first service on it and they will be back for the 1000-hour service. We do the rest. It's nice the way it's laid out; the filters are lined right up there and it's easy to get at everything; a lot easier to work on than our other new machine. You don't have to fight it. The 850's got a real beefy boom on it, which I like, very deep in the web. And I think its dual cylinders are a good idea, too."

Bruce asked Jason if he'd ever seen anything like the 250-hour service that the machine received from Top Lift, and Jason admitted that he hadn't. Bruce explained, "They really surprised me. I came walking up and they had all the service oils in the machine -- motor drives, swing motors, all the pumps and motors -- they had drained all the oils and I said 'What the on earth are you doing!' So they said that this is policy on all SENNEBOGEN equipment. Because of all the parts that are brand new, you're going to have wear. So at 250 hours, all the "undesirables" are flushed out, replaced with new oils and back to work! I've never seen this philosophy before; they caught me right off guard!"

Between the Top Lift service and the 850's simplicity, Bruce feels that he is truly getting what he paid for with the SENNEBOGEN machine. "We want something that an operator can climb up into, turn the key and... you know the key is going to go directly to the starter! It doesn't have to go through the computer system and check that every little gauge and nook & cranny is operating before it starts! I know another organization that refuses to buy new machines because they are all high tech and will not stand up. The new "electronic era" is not conducive to this kind of industrial environment. It's dirty and dusty, there's vibration, hot and cold, condensation -- it's not an office environment." "You have to get back to the old way of mechanics; start it up and away you go. We went with SENNEBOGEN because they don't have the computer on board. And they haven't let us down."

SENNEBOGEN has been a leading name in the global material handling industry for more than 50 years. Based in Charlotte, North Carolina, SENNEBOGEN North America offers 21 different purpose-built machines to suit virtually any heavy lift or "pick & carry" application. A growing network of distributors supports SENNEBOGEN sales and service across North America, ensuring the highest standard of professional machine support and parts availability.

For more information on the 850 M machine as well as the full line of SENNEBOGEN green line material handlers, contact:

Constantino Lannes, President
SENNEBOGEN LLC
2835 Jeff Adams Dr., Suite H, Charlotte, NC 28206
Call toll free 1-877-309-0099 or fax (704) 347-8894
Email - sales@sennebogen-na.com
Visit the web site at www.sennebogen-na.com

Welcome to London!
John Zubick Ltd., Scrap Metals is located in London, Ontario, the largest metropolitan area situated in the heart of Southwestern Ontario. London is about midway between Detroit, Michigan and Toronto, Ontario and about an hour from Canada's "steel town," Hamiliton, Ontario. London is an economically diverse centre, known as a regional hub for transportation, financial and health care services as well as agricultural industries and manufacturing. The manufacturing sector is largely focused on the automotive industry: Ford, GM, Chrysler and Honda all operate large assembly plants within a short distance of the city. London's best known manufacturers include a large 3M complex, General Motors locomotive production and General Dynamics armored vehicle production. Rail and highway links to nearby border crossings at Sarnia, Windsor and Niagara put London within easy reach of major markets and steel mills in the northeastern industrial belt from New York State to Michigan.

Features of 850 M C Series Machine

The 850 M equipped shares most features in common with other green line machines including the most recent C Series updates:

o Three options of cab risers; a hydraulic elevating cab, hydraulic elevating and forward moving cab as well as the fixed elevated cab; combined with a very large and ergonomically designed cab

o Simple hydraulic system without computers

o Very easy maintenance access as the engine is mounted on the right side of the upper carriage; all regular maintenance points are accessible from the ground

o a water-cooled Caterpillar C9 diesel engine; 313 HP at 2000 rpm

o improved noise reduction system

o a 25 kW belt driven generator

o a purpose built undercarriage making it one of the most stable rubber tired machines available on the market today.

o lifting radius up to 68' 10"

o operating weight of 125,600 lbs.

o swing speed from 0 - 6.5 rpm, infinitely controllable

o travel speed up to 6.8 mph

More from Optics & Photonics