Scott Health & Safety Introduces The Pak-Tracker Firefighter Locator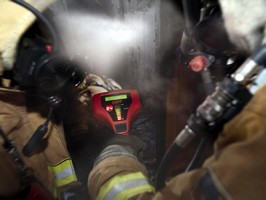 New technology allows trapped and downed firefighters to be found anywhere

DATELINE (April 27, 2006) - In 2004, 11.7% of firefighter deaths were the result of being caught or trapped during an emergency response¹. While all firefighter deaths are tragic, the third leading cause of death for firefighters - being trapped or lost - may be avoidable in many emergency situations if the proper tool for locating and rescuing firefighters is available. Now it is, with the launch of a revolutionary new design in firefighter locators - the new Scott Pak-Tracker Firefighter Location System.

Unlike any other system available in the market today, the Scott Pak-Tracker Firefighter Locator System uses high frequency 2.4GHz RF to direct rescuers to firefighters who may be trapped or downed in any part of a building collapse or lost in a multi-story structure. Other systems rely on either a 457 kHz radio signal or ultrasonic waves that can bounce off walls, ceilings and are distance limited. The Pak-Tracker Locator System's high frequency signal strength provides maximum line-of-sight searching distance at greater than 900 feet (300 meters), creating a more directional path to a downed firefighter.

The Scott Pak-Tracker Locator System's most unique feature is its ability to be used as either a stand-alone location system that can be operated in conjunction with any manufacturer's self contained breathing apparatus or as system integrated into the Scott Air-Pak Fifty or NxG2 SCBA. In fact, a self-contained breathing apparatus is not even required to utilize the benefits of the Pak-Tracker Locator System. The system consists of an easy-to-operate, fireground, fire-hardened, hand-held receiver and the stand-alone or Scott SCBA-integrated transmitter. The hand-held receiver can be employed on both the stand-alone and/or integrated location system and can monitor and scroll through 36 personal transmitters. As one firefighter is found or removed from the scene, the receiver can accept the transmission of another firefighter.

"We have developed the best firefighter locator available today," says Tom Korb, Scott's Fire Service Marketing Manager, "With its tremendous signal strength, the Scott Pak-Tracker has the most direct path to the transmitter and the downed firefighter. And with the option to integrate the transmitter into an SCBA or use it as a stand-alone unit, the Pak-Tracker Locator is unparalleled in the industry."

Even with the advanced technology Scott has built into the Pak-Tracker Locator System, it remains simple to operate. Similar to Scott's Pak-Alert® SE+ P.A.S.S. device, the Pak-Tracker Firefighter Locator monitors the SCBA user's motion and will signal both an audible and visual indicator if it doesn't detect movement. Once a firefighter is motionless for 30 seconds, the system goes into full transmit and the transmitter sends a signal to the hand-held receiver.

The hand-held receiver, when in search mode, will lock onto and display the transmit number of that incapacitated firefighter. The receiver's screen will display three visual and audible indicators to lead the searcher to the victim: a bright two digit number indicating signal strength that increases from "0" up to "99" ("99" indicating closest to victim), incrementally illuminating, multi-color light bars, and an audible tone that increases in intensity as the searcher nears the victim (transmitter). "This redundant system ensures that a downed firefighter can be found in any environment, including dense smoke, extreme background noise, darkness of night, or bright daylight," says Mr. Korb.

Activation of the system is just as simple. Firefighters using a personal transmitter activate their Pak-Tracker Locator System by first clipping their transmitter's lanyard to the jump seat as they enter the apparatus. When they leave their seat to enter the scene, the lanyard disengages from the transmitter and automatically activates the system. The integrated system is even simpler, with activation occurring when the firefighter opens the SCBAs valve of a cylinder that has at least 125 psig remaining air supply. Both systems can be manually activated and indicate its activation through both audible tones and visual LED's.

The Scott Pak-Tracker is light at just 2.2 pounds (.997g.), constructed of fireground-proven polymer materials. It is ergonomically designed to easily be held and operated with gloved hands. Large buttons on both the hand-held receiver and the personal transmitter allow easy activation and operation. Large LED and LCD displays on the hand-held receiver, visible in any light, indicate searching in three visual modes. An audible tone increases in volume as the searcher nears the trapped firefighter.

The Pak-Tracker Firefighter Locator's stand-alone personal transmitter is powered by three 'AAA' Alkaline batteries that are user replaceable and intrinsically safe. The integrated transmitter is powered from the SCBA's battery pack. The hand-held receiver uses rechargeable NiMH batteries or six replaceable AA Alkaline batteries. The system is also available with a desktop or truck charger for the hand-held unit.

While the Scott Pak-Tracker was designed with firefighter rescue in mind, it has a multitude of non-fire applications, including search and rescue and personnel accountability. "With the introduction of the new Pak-Tracker Firefighter Locator System, we believe the lives of many first responders will be spared," says Mr. Korb, "It is an excellent additional tool for search and rescue operations which locates downed or trapped firefighters, first responders, or emergency personnel within a single or multi-story structure."

For more information about the new Scott Pak-Tracker Firefighter Locator System, visit Scott's website at scotthealthsafety.com or call Scott Health & Safety at 1-800-247-7257.

¹NFPA's Fire Incident Data Organization (FIDO), 7/05-ns

Scott Health & Safety, a business unit of Tyco International's Fire & Security segment, is a premiere manufacturer of innovative respiratory and other personal protective equipment and safety devices for firefighters, industrial workers, police squads, militaries, homeland security forces, and rescue teams around the world. With five global manufacturing locations, Scott produces products that protect thousands of individuals each day from environmental hazards including smoke, toxic fumes, combustible gases, falling objects, and contaminants. The Scott product line includes self-contained breathing apparatus, supplied air and air-purifying respirators, gas detection instruments, head, face, eye and hearing protection, decontamination showers, and safety signs and markers.

Tyco Fire & Security provides electronic security and fire protection solutions in over 100 countries. With $11.5 billion in annual sales and 90,000 employees, its products and services are used to safeguard firefighters, prevent fires, deter thieves and protect people and property.

More from Mechanical Power Transmission