Scotchman Introduces New Optional Automated Program for 90° Cuts to Increase Production Capabilities for The Semi-Auto SUP-600 AngleMaster Sawing System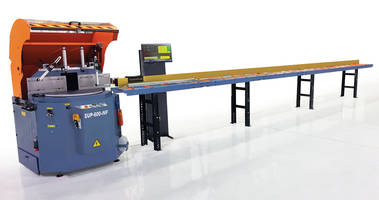 Philip, South Dakota: With the new addition of the optional Auto-90 program feature, the SUP-600 AngleMaster saw runs completely automatically for 90° cuts only. The system will feed materials, make the 90° cuts continuously and is ideal for Door & Window Industry, T-slot Extrusion Builders, Lighting Fixtures, Storefront Facades and industries using high volume non-ferrous materials with 90° cuts.
Scotchman's SUP-600 NF AngleMaster Upcut Circular Cold Saw is designed specifically for cutting Non-Ferrous material such as aluminum. Copper, PVC and wood. Featuring a 24" (600 mm), 132 tooth carbide blade that is capable of producing round cuts up to 8" in diameter and rectangular cuts up to 9" x 5"at 90°, the SUP-600 NF offers an increased cutting capacity not found in traditional pivot saws.
This SUP-600 upcut saw coupled with the Scotchman AngleMaster digital material positioning system, creates a semi-automatic programmable saw system that automatically rotates to any cut angle, pushes material into the saw & automatically rotates to the next desired angle.
Standard features include: 21" touch screen control that can store unlimited cuts list. Adjustable feed rate with mitering degree range of 22° to 159º. Two horizontal and two vertical pneumatic clamps to secure material being cut. A 4-1/2" port for chip collection plus a drawer under the bottom of the saw. The SUP-600 NF is available in 230 volt and 460 volt configurations and is backed by Scotchman's superior warranty.
The complete line of products includes: Hydraulic Ironworkers, Circular Cold Saws, Band Saws, Tube & Pipe Notcher/Grinders, Manual Measuring Systems and Programmable Feed & Stop Systems.
For more information about their Metal Fabricating Solutions, visit www.scotchman.com Email: [email protected], or call TOLL FREE at 1-800-843-8844 or DIRECT at 1-605-859-2542.
A Release from:
Contact:
Christopher Madison
Anderson-Madison Advertising, Inc.
4600 West 77th Street, Suite 335
Edina, Minnesota 55435
Ph: 952-835-5133 
Email: [email protected]
Contact:
Jerry Kroetch, President
Scotchman Industries, Inc.
180 E. Hwy 14
P.O. Box 850
Philip, SD 57567
Ph:  800-843-8844
E-mail: [email protected]
Website: www.scotchman.com