Scoreboard Software delivers instant, automatic CG updates.
Press Release Summary: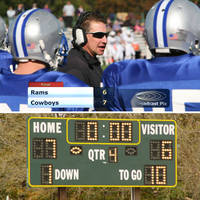 Available for Granite(TM) and Mica(TM) Video Control Centers(TM), Fluent Rapid CG(TM) 2 software automatically updates graphics created within built-in Harris Inscriber CG as scores, clock, and other data change on scoreboard. All information on scoreboard can be attached to on-air CG templates, and second channel can be used to supply player statistics and graphics from database. Compatible with Daktronics All Sport scoreboard control consoles, software also automatically integrates RSS feeds.
---
Original Press Release:

New Broadcast Pix Fluent Rapid CG 2 Software Integrates with Daktronics Scoreboards for Instant, Automatic CG Updates



Billerica, Massachusetts - Today Broadcast Pix(TM) has made available for download the release version of its new Fluent Rapid CG(TM) 2 software option for its Granite(TM) and Mica(TM) Video Control Centers(TM). The second-generation software can be integrated with Daktronics scoreboards controllers so as scores, clock, and other data change on a scoreboard, Fluent Rapid CG 2 automatically updates graphics created within Broadcast Pix's built-in Harris Inscriber CG. Broadcast Pix will demonstrate the new functionality at InfoComm 2012, which runs June 13-15 in Las Vegas, Nev. (Booth C7345).

"From international soccer matches to high school football, sports is a dominant presence in live production," said Ken Swanton, CEO, Broadcast Pix. "With support for scoreboards for multiple sports, Fluent Rapid CG 2 makes it easier than ever for Broadcast Pix Video Control Centers to deliver data-intensive CG graphics during live game coverage for Internet, television, and in-stadium audiences."

The new Fluent-Rapid CG 2 software operates with Daktronics All Sport 3000, 5000, or 5500 series scoreboard control consoles. Supported scoreboards include baseball, basketball, football, hockey, lacrosse, soccer, and volleyball. All information on the scoreboard can be attached to on-air CG templates. Plus, Fluent-Rapid CG 2 can use a second channel to supply player statistics and graphics from a database.

A free upgrade for current Rapid CG customers, it also provides faster updates, clocks by-the-second, and dual-channel capabilities to update two different on-air graphics at once. It also automatically integrates RSS feeds and custom action buttons. Beyond live sports, Fluent Rapid CG 2 is ideal for all data intensive graphic applications, including election results, and it provides integration with EZNews for easy news automation applications.

About Broadcast Pix Broadcast Pix is the leader in live video production systems. Its Video Control Centers(TM) empower operators with patented techniques that combine cameras, clips and graphics to create compelling live video. The integration of a multi-format switcher, clip store, graphics system with a Harris or Chyron CG, and device controls provides the lowest cost of ownership at a fraction of the cost of a conventional control room to buy, staff and operate. Systems range from compact systems controlled by a touch-screen or voice-automation to sophisticated 2 M/E control panels. Customers include leading broadcast, corporate, education, religious, government, webcast, entertainment and mobile studios in more than 100 countries. Learn more at www.broadcastpix.com.

Broadcast Pix, Granite, Mica, Fluent Rapid CG, and Video Control Centers are trademarks of Broadcast Pix, Inc. Patented.

Robin Hoffman
Pipeline Communications
277 Valley Way
Montclair, NJ 07042
(973) 746-6970
cell: (917) 763-8069
www.pipecomm.com
News/Blog: www.pipelinecomm.wordpress.com
Follow: http://www.twitter.com/pipecomm
Google Profile: http://www.google.com/profiles/robinhoffman7

Related