Score™ Speaker System is enabled with SKAA wireless HiFi audio.
Press Release Summary: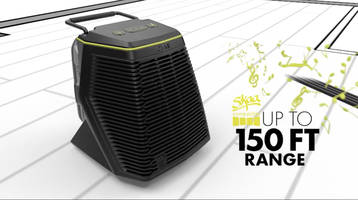 Allowing up to 150ft. wireless range, Score™ Speaker System can connect up to four additional hub and satellite speakers. Featuring AC power adaptor that allow endless runtime, product is compatible with RYOBI ONE+ 18 V battery. Incorporating FM tuner with five Presets, unit comes with high quality driver and passive radiator. System is enabled with Bluetooth option for quick connection to mobile device to primary connection.
---
Original Press Release:
Score! RYOBI Integrates SKAA Technology into New Wireless Jobsite and Home Speakers
RYOBI Score™ Speaker System Utilizes SKAA for Unparalleled Wireless Sonic Performance and 150ft. Range for Up to Five Connected Speakers
Whether on the jobsite, your personal DIY project, or inside or outside the home, RYOBI's new Score™ wireless speaker system is the ideal audio solution for a multitude of uses. Now available and sold exclusively at The Home Depot®, Score utilizes acclaimed SKAA® technology, which allows a 150ft. wireless range and can connect up to four additional hub and satellite (primary and secondary) speakers instantly.
"By connecting your Bluetooth® device first to a primary speaker, you now have the ability to connect up to four additional Score primary or secondary speakers instantly using SKAA® technology," explained Brian Mertel, Ryobi Sr. Director of Product Management. "With up to 150 ft. of SKAA range from a primary speaker, these speakers can be placed virtually anywhere on a residential or commercial jobsite or in the home, such as the backyard, garage, basement, kids' rooms, etc. and stream through your walls and floors. This would not be able to be done with such high performance consistency without SKAA as our wireless technology."
SKAA is the new wireless HiFi audio standard developed by Eleven Engineering, Inc. SKAA transmitters work with iOS & Android mobile devices, Mac & Windows computers, televisions, and just about any product with a line output or a headphone jack. SKAA is also available as a built-in technology not requiring an external transmitter in purpose-designed partner products, which are featured at SKAA.com. SKAA navigates hostile environments saturated in wireless traffic with best-in-class reliability, and delivers uninterrupted audio with the highest sound quality to all speakers without the latency that is inherent in other wireless solutions.
"When we discussed SKAA with RYOBI, it quickly became apparent that SKAA was the perfect technology for Score," explained Rex Whitehead, Eleven Engineering director of sales, North America. "SKAA is ridiculously easy to use - all compatible products are ready to play right out of the box. It's also highly flexible, being compatible with a fantastic breadth of audio sources, such as the Score wireless speaker systems. Plus, SKAA receivers can effortlessly switch from source to source. And don't forget rock-solid reliability, great range, and CD-quality sound. SKAA.com is the source for all things SKAA."
Score features a high-quality driver and passive radiator, so you will always receive clear, robust sound. They are compatible with any RYOBI ONE+ 18-Volt battery, include an AC power adaptor that allow for endless runtime, Bluetooth enabled for quick mobile device to primary speaker connection, integrated FM tuner with five Presets for more listening options (P760 primary speaker only), and include a high quality driver and passive radiator for clear, robust sound.
For more information, contact Rex Whitehead at 480-650-3979 or email [email protected]. For more information on Eleven Engineering, visit www.SKAA.com and www.elevenengineering.com.
About RYOBI/TTI
Founded in 1985 and listed on the Stock Exchange of Hong Kong Limited in 1990, TTI is a world-class leader in quality consumer, professional and industrial products marketed to the home improvement, hardware, and construction industries. An unrelenting strategic focus on Powerful Brands, Innovative Products, Exceptional People and Operational Excellence drives our success. TTI's powerful brand portfolio includes MILWAUKEE, AEG and RYOBI power tools, accessories and hand tools, RYOBI and HOMELITE outdoor products, EMPIRE layout and measuring products, and HOOVER, ORECK, VAX and DIRT DEVIL Floor Care and Appliances.
TTI is one of the constituent stocks of the MSCI All Country World Index, FTSE Developed Index and Hang Seng Composite LargeCap Index under the Hang Seng Composite Size Index. For more information, please visit www.ttigroup.com.
About Eleven Engineering, Inc.
Edmonton, Alberta, Canada-based Eleven Engineering, Inc. is a market leader in microprocessors SiPs (System in Package) and modules designed for wireless audio for Home Theater, Multi-Room, Portable, and Pro Audio products. Eleven's XInC2 multithreaded processor was designed specifically for digital wireless audio applications but is also well suited for other realtime intensive microprocessor applications.
Eleven's high-performance wireless audio semiconductors, equipped with XInC2 wireless processor cores, are complete solutions for high-quality digital wireless audio transport. WFD™, Eleven's proprietary wireless audio transport protocol, has a narrow footprint in the radio spectrum, delivering both best-in-class coexistence with WiFi / Bluetooth and unparalleled Quality of Service
Contact:
Eleven Engineering Inc.
10150 - 100 Street,
Suite 800 Edmonton,
Alberta, Canada, T5J 0P6
780-425-6511;