Scissor Lift Tables offer near deflection-free operation.
Press Release Summary: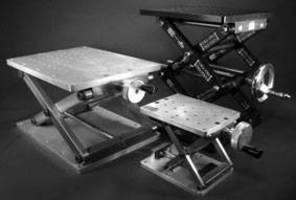 Designed for industrial and laboratory applications, Xtreme-Z Lab Jacks come in 4 models with lift heights from 4.5-12 in. All are stable under minimum or maximum load, with ±.015 in. deflection over full range of movement. Largest model offers respective dynamic and static weight capacities of 150 and 250 lb. All models feature adjustment handle that is removable and machined to accept powered movement. Mounting top and bottom plates are standard and metric grids, respectively.
---
Original Press Release:
NEW Line of Lab Jacks
Labjacks.com announces its NEW line of Lab Jacks that achieves a full 12 inches of travel with virtually NO DEFLECTION. After several years of real world testing and development, we are proud to offer a complete line of Xtreme-Z Lab Jacks developed, tested, manufactured and assembled in the U.S.A. Our products have been designed, and are well suited for many types of Industrial and Laboratory Applications. This includes the Laser and High Speed Film Industries, and Scientific, Research, and Educational Laboratories. Labjacks.com currently manufactures 4 different models ranging from a 4.5" lift Xtreme-Z-mini to the massive 12" lift Xtreme-Z-12. Our products are made with high quality precision components for many years of trouble free use. In addition, we offer a variety of accessories and options to best satisfy our customers' individual needs. Unique and key features of the Xtreme-Z line of Lab Jacks include:
The only Lab Jack with the ability to move a full 12 inches of travel in the vertical (Z axis) direction (Xtreme-Z 12 Model), others must be ganged or stacked to achieve 12 inches of movement.
Stable under Minimum or Maximum Load with + or - .015" deflection, (self centering), over the full range of movement.
Weight capacity of 150 lbs. moving, 250 lbs static. (Z-12 Model).
The mounting top and bottom plates are standard and metric grids respectively.
The adjustment handle is easily removable and machined to accept powered movement.
Easily adapted to Optical Tables, Optical Mounts, and other Laboratory Equipment and Apparatus as well as Fixtures and Motion Systems.
Developed, Tested, Manufactured, and Assembled in the U.S.A. Common terminologies used in conjunction with the "Xtreme-Z" are, Laboratory Jack, Lab Jack, Scissors Jack, Height Stage, Z Axis Platform, and Adjustable Height Stage. TM and Pat. Pend. For more information contact us at: Labjacks.com 1580 Barclay Blvd Buffalo Grove, IL 60089 PH: 847-537-4202 Fax: 847-537-4701
More from Mechanical Power Transmission