Scissor Lift offers omni-directional mobility.
Press Release Summary: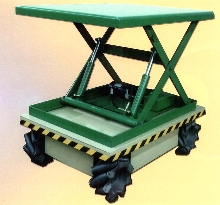 Hydraulic Scissor Lift Table travels in any direction 360° around and can spin 360° circles in either direction about its vertical axis. Capacities range from 500 to 10,000 lb, with deck sizes from 24 x 36 in. to 72 x 120 in. and vertical lifts up to 160 in. Controls are pendant remote control or radio remote control. Variable speed mobility, from 0 to 5 mph, is controlled by joystick. Equipped with camera, unit can be used to transport dangerous materials or armaments.
---
Original Press Release:
New Scissors Lift with Omni-Directional Mobility

The NEW design of the hydraulic scissor lift table with unique omni-directional mobility allows the unit to travel a line in any direction 360° around and it can spin 360° circles in either
direction about it's vertical axis. This makes these units ideal for navigating tight spaces.

Capacities are available from 500 lbs. to 10,000 lbs. with deck sizes as small as 24" x 36" up to 72" x 120" with vertical lifts up to 160". Optional rubber bumpers are available for the corners
of the table to protect nearby objects from collision damage.

Lifting is hydraulically operated and battery or electric AC powered. The controls are pendant remote control or radio remote control and it can be equipped with GPS for remote distance positioning capabilities.

Mobility is provided by a very unique omni-directional undercarriage which allows the unit to travel in any direction desired to provide maneuverability in a tight spot for precise positioning in hard to reach places.

The mobility is variable speed from zero to 5 MPH and is controlled via a joystick. The Omni-wheel provides superior mobility over any other undercarriage ever designed.

Units equipped with a camera can be controlled by the operator from a secure place to transport dangerous, toxic, explosive, or flammable materials or armaments.

Designed for national defense applications as well as departments of energy and many other industrial, commercial, and security force uses,

For more information:

Air Technical Industries

7501 Clover Ave.

Mentor, Ohio 44060

Ph. 440-951-5191

Fx. 440-953-9237

e-mail: ati@airtechnical.com

http://www.airtechnical.com
More from Transportation Industry Products