Scientific Calculator offers spreadsheet function.
Press Release Summary: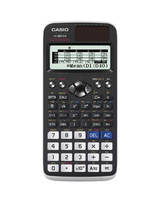 Featuring 274 functions and high-resolution LCD, CLASSWIZ fx-991EX lets users create spreadsheets up to 5 columns and 45 rows for max of 170 data items. Natural textbook display means that mathematic equations and formulas, such as powers, logarithms, and roots, are displayed in natural format as they would appear in student's textbook. With ability to convert graphs into QR codes which can be displayed on projector screen, calculator helps instructors and students work together seamlessly.
---
Original Press Release:
Casio Launches New fx-991EX Scientific Calculator with Spreadsheet Function
Casio's CLASSWIZ Calculator Features High-Resolution Intuitive Display, QR Code Functionality and more

BOSTON, -- Casio America, Inc., a leader and pioneer in the education space, today announced the introduction of the industry's first standard scientific calculator with spreadsheet functionality. The new CLASSWIZ fx-991EX calculator, which features 274 functions and high-resolution LCD technology, raises the bar for classroom industry standards. Casio's CLASSWIZ fx-991EX will be on display at The NCTM Annual Meeting and Exposition in Boston, MA from April 16-18, 2015 in Casio's Booth #1121.

Typically a function reserved for graphing calculators, Casio's new CLASSWIZ fx-991EX scientific calculator features a basic spreadsheet function that allows users to create spreadsheets of up to five columns and 45 rows for a maximum of 170 data items. It also boasts a high-resolution screen and comes equipped with natural textbook display, which means that mathematic equations and formulas, such as powers, logarithms, and roots, are displayed in a natural format just as they would appear in a student's textbook.

"As a manufacturer of calculators for more than 50 years, we have continuously made innovations in our product lineup in order to bring the most forward-thinking offerings to students and teachers," said Yuji Sasajima, Vice President of Casio's Consumer Products Division. "With the new CLASSWIZ, students and educators will be able to use the most advanced features and calculate equations with ease. We believe this latest addition is a game-changer."

In addition to the new spreadsheet functionality, the CLASSWIZ fx-991EX also features the ability to convert graphs into QR codes which can be displayed on a projector screen, allowing instructors and students to work together seamlessly. Instructors can generate specific QR codes for students to scan using their smartphone or tablet in order to access a dedicated website and see the graph directly on their device.

When it comes to usability, the CLASSWIZ fx-991EX makes it easy for students to start solving equations right away. It features an intuitive icon display for quick and easy access to key functions. A convenient list display function provides thorough and quick learning by allowing variables and statistical calculation results stored in the calculator's memory to be displayed in lists, therefore students will not need to recall and confirm individual values. The CLASSWIZ fx-991EX scientific calculator can also perform advanced mathematics including 4x4 matrix calculations, simultaneous equations with four unknowns and quartic equations, advanced statistical distribution calculations, metric conversions, as well as integration, differential and ratio equations. 

Casio's CLASSWIZ fx-991EX is available for an MSRP of $19.99 at mass retail channels, office super stores and www.shopcasio.com. For additional information on Casio's complete portfolio of calculators, please visit www.CasioEducation.com.    

About Casio America, Inc.
Casio America, Inc., Dover, N.J., is the U.S. subsidiary of Casio Computer Co., Ltd., Tokyo, Japan, one of the world's leading manufacturers of consumer electronics and business equipment solutions. Established in 1957, Casio America, Inc. markets calculators, keyboards, mobile presentation devices, disc title and label printers, watches, cash registers and other consumer electronic products. Casio has strived to fulfill its corporate creed of "creativity and contribution" through the introduction of innovative and imaginative products. For more information, visit www.casiousa.com.

CONTACT: S. Vander Schans, CASIO AMERICA, INC., (973) 361-5400, svanderschans@casio.com

Web Site: http://www.casioamerica.com
More from Mechanical Power Transmission