Schottky Diode is offered in ring quad packaging.
Press Release Summary: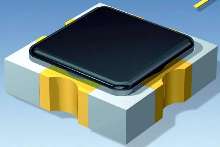 Low, medium, and high barrier Schottky ring quads are available in CS-17 package measuring 0.060 x 0.060 x 0.025 in. tall with 4 bonding pads on bottom. Manufactured using epitaxial process to ensure control over carrier concentration and thickness, products have closely matched junction capacitance and forward voltage. Monolithic design and square, ceramic, SMT package with epoxy top make units suited for use in double balance mixers, modulators, and doublers.
---
Original Press Release:
New Schottky Ring Quad Packaging

January 12, 2005

Londonderry, NH-MicroMetrics low, medium, and high barrier Schottky ring quads are now available in a new package. CS-17 is a square ceramic surface mount package with an epoxy top. It measures 0.060" sq x 0.025" tall, with 4 bonding pads on the bottom. This package is ideal for high volume automated manufacturing applications and can be delivered in sleeves or in tape and reel.

MicroMetrics Schottky ring quads are manufactured using an in-house epitaxial process to ensure control over carrier concentration and thickness. In addition to closely matched junction capacitance and forward voltage, these high quality ring quads feature low junction capacitance, low series resistance, and low leakage currents. Their rugged monolithic design makes them ideal for use in double balance mixers, modulators, and doublers that get employed in applications such as cell phones and transmitters.

In addition to the new CS-17 package, MicroMetrics Schottky ring quads are also available in a variety of other ring quad packages including: CS-12-4-a unique ceramic chip option, and CS-26R-a standard 4 lead ceramic surface mount option. They are also available in wafer and die form. Price and delivery is model specific.

About MicroMetrics

Established in 1986, MicroMetrics, Inc. is a privately held, full service manufacturer of standard and custom RF/Microwave diodes and other semiconductor devices. They are one of the largest suppliers of custom semiconductors to the U.S. military and among the leading suppliers of diodes to the commercial wireless industry. All design and manufacturing is completed in-house in their fully equipped, 43,000 square foot, ISO certified facility in Londonderry, NH. Specific devices that are manufactured include: tuning varactors, step recovery diodes, PIN/NIP/limiter diodes, Schottky diodes, attenuator pads, point contact diodes, chip capacitors, resistors, spiral inductors, abrupt and hyperabrupt varactors, mixer/detectors and MELFs.

Company Contact

Donna Langan at 603-641-3800

dlangan@micrometrics.com

Micrometrics, Inc.

54 Grenier Field Rd.

Londonderry, NH 03053

Phone: 603-641-3800

Fax: 603-641-3500

www.micrometrics.com
More from Materials