Schneider Electric Introduces the Altivar 212® Mobile Programming Application and Apple iPad® Converter Cable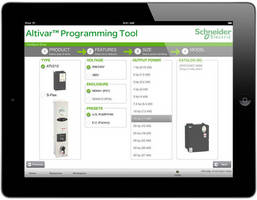 Innovative mobile application to assist users in tuning a drive for a specific application.  Easy default macros allow a drive to be configured very quickly by users to simplify the equipment start up process.                



RALEIGH, NC – Schneider Electric, a global specialist in energy management, today announced the new Altivar 212 mobile programming application and drive to iPad converter cable, which allow users to perform all Altivar™ 212  and S-Flex™ drives programming through Apple iPads. The application contains simple menu-driven parameter sets that walk users through the drive configuration process. Digitizing the start-up and programming of a drive streamlines the process, allowing customers to store pertinent drive information in a single location, and facilitates a standard drive configuration throughout a facility.



Proper configuration of the drive within HVAC building fan and pump applications can lead to a savings of 5 percent compared to drives with incorrect settings. The Altivar 212 mobile app addresses programming challenges that emerge from the coded parameter sets commonly found in these very flexible products. The new app enables an iPad to function as a drive keypad for easy set up using pre-loaded common default parameters for HVAC fan and pump applications, significantly streamlining the configuration process.



While it is possible to utilize other programming devices such as a keypad, downloader, or PC to program the drives, the iPad app offers unique benefits, such as a simple menu-driven structure with embedded programming manual, as well as support links, should customers require assistance in the field. Entire job close-out files can be loaded on an iPad and presented to a building owner for retention. Motor data for each fan or pump is also stored inside the app should it be required to reset the drive to the original settings loaded by the service technician during building commissioning. Links to YouTube® start- up videos and other multimedia help tools are also provided for the user to obtain instruction on proper set up and maintenance of the drive equipment.



The Altivar 212 mobile programming application can be downloaded for free from the Apple iTunes® store at: https://itunes.apple.com/us/app/altivar-programming-tool/id689372564?mt=8.



To learn more about the new application and availability of converter cable, please visit: http://www.schneider-electric.com/downloads/us/en/document/EAV44179.



More from Food Processing & Preparation