Schleuniger, Inc. to Exhibit Wire Processing Solutions at Expo Manufactura 2018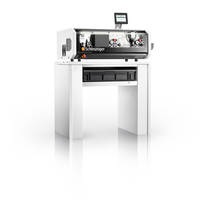 Schleuniger, a leading international manufacturer of wire processing machines, will be demonstrating equipment from its comprehensive line of solutions at Expo Manufactura on February 6-8, 2018 in Cintermex, Monterrey, N.L. Mexico. Expo Manufactura brings together the most influential players in the engineering industry, attracting more than 9,000 professionals from large, medium and small companies, looking for quality manufacturing solutions. Schleuniger will be at booth #436 providing hands-on demonstrations of innovative solutions for stripping, cutting, crimping and marking all types of wire and cable.
During the show, Schleuniger will provide demonstrations of the versatile MultiStrip 9480 cut and strip machine. The machine's high resolution indexing cutter head and programmable rotary incision capability set the benchmark for high precision processing of coaxial and other shielded cables. The MultiStrip 9480 family offers six machine versions to meet your specific production needs. With many additional options and accessories, the MultiStrip 9480 can handle a nearly endless range of applications.
Schleuniger will also provide demonstrations of the versatile EcoStrip 9380 cut and strip machine. The EcoStrip 9380 offers the most complete feature set at an economical price point. This flexible machine provides expanded capabilities due to its quick-change transport unit for belts, rollers and shortmode and is compatible with a wide range of accessories, including prefeeding, marking, stacking and coiling. The intuitive color touchscreen user interface minimizes training and set-up times and with optional Schleuniger software, the EcoStrip 9380 can easily be integrated into various networks.
In addition, popular benchtop wire stripping machines, including the UniStrip 2300 will be shown. This intuitive machine features an easy to use touchscreen user interface and a very sensitive trigger sensor that works great for small, flexible wires. Further adding to the machine's user-friendly features, no mechanical adjustments are needed when changing wire sizes, saving the user valuable time.
Additional products that will be demonstrated include the powerful and economic UniCrimp 200 wire crimping machine, the SawInspect System 6 for crimp cross section analysis and Schleuniger's newest series of crimp applicators, the Uni-M.
Attendees are encouraged to bring their wire samples and talk with Schleuniger's wire processing experts to help determine the equipment that is best suited to their individual needs.
More information about these products can be found at www.schleuniger-na.com. Should you have any questions, please e-mail sales@schleuniger.com or call (603) 668-8117.
About Schleuniger The Schleuniger Group in Thun is a globally active technology company and a leading supplier to the wire processing industry. With its wholly-owned and independently managed company, DiIT, Schleuniger is in addition a leading player in digitalization and industrial IoT.
Most of the Schleuniger Group's customers are suppliers to the automotive, entertainment and information industries as well as for the communications sector. Schleuniger's products are used wherever precise connections and highest productivity are required. The company has development and production locations in Switzerland, Germany and China. Due to its sales and service companies in North America, Europe and Asia and more than 40 distribution partners worldwide, Schleuniger is always close to its customers.
The Schleuniger Group represents the wire processing business segment of the publicly listed Metall Zug Group and has more than 700 employees and 30 apprentices worldwide.
Contact This Company Download Spec Sheet
Related