Schleuniger, Inc. to Demonstrate Laser Wire Stripping Machine at ATX Minneapolis 2017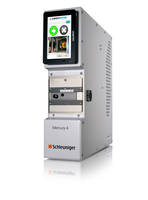 Schleuniger, Inc., a leading international manufacturer of high-precision wire processing machines, will demonstrate select equipment from its comprehensive line of wire processing products at ATX Minneapolis 2017. ATX is part of the Midwest's largest advanced design and manufacturing event, presenting a full spectrum of products and services supporting the region's booming medical sector and beyond. The exhibition will be held at the Minneapolis Convention Center in Minneapolis, MN on November 8 -9, 2017. Schleuniger will be at booth #729 providing hands-on demonstrations of innovative wire processing solutions.
Schleuniger will be demonstrating its new Mercury-4 laser wire stripping machine. Thanks, to Schleuniger's worldwide cooperation with Laser Wire Solutions, this new machine, designed by Laser Wire Solutions, is available as part of Schleuniger's wire processing portfolio. The machine strips wires and cables ranging in size from 0.0010 to 16 mm2 (50 – 6 AWG) and does not require any mechanical adjustments to process different wire sizes. Using the color touchscreen, the operator selects the desired stripping parameters from the programmed library and all parameters (strip lengths, laser power and speed, etc.) are automatically set. Once the operator selects the required program, the machine is ready for operation. The Mercury-4 provides high quality, completely nick-free stripping every time and with non-contact, no wear parts, the user does not need to worry about costly consumables.
In addition, the EcoCut 3200, an automatic wire cutting machine for measuring and cutting round material, will be on display. The EcoCut 3200 can be equipped with either a tube cutting head or a universal cable cutting head. The tube cutting head can process tubing up to 0.5 " (12.7 mm) O.D. with outstanding quality. The universal cable cutting head can process wire, cable and tubing up to 0.39" (10 mm) O.D. The EcoCut 3200 can be used as a stand-alone machine or it can be integrated into a processing line.
Schleuniger's MultiStrip 9480 cut and strip machine will also be shown. The machine's high resolution indexing cutter head and programmable rotary incision capability set the benchmark for high precision processing of coaxial and other shielded cables. The MultiStrip 9480 family offers six machine versions to meet your specific production needs. With many additional options and accessories, the MultiStrip 9480 can handle a nearly endless range of applications.
Other popular machines that will be part of the exhibition include the UniStrip 2300, UniStrip 2550 and UniStrip 2600 wire stripping machines and the CoaxStrip 5200 coaxial cable stripping machine. Schleuniger's wire processing experts will be on hand to review your wire samples and help you find the right equipment for your specific applications.
More information can be found at www.schleuniger-na.com. Should you have any questions, please e-mail sales@schleuniger.com or call (603) 668-8117.
About Schleuniger
The Schleuniger Group in Thun is a globally active technology company and a leading supplier in the Wire Processing industry. Customers of the Schleuniger Group primarily supply the automotive, entertainment, and information industries as well as the communication sector. Schleuniger products are used whenever precise wire processing plays a role.
Development and production are located in Switzerland, Germany, and China. Schleuniger is always close to its customers - with four Sales and Service companies in the US, Germany, China, and Japan as well as with 40 distributors worldwide.
The Schleuniger Group represents the Business Unit Wire Processing of the listed Metall Zug Group and has about 640 full-time employees and 30 trainees worldwide.
Schleuniger, Inc.
Media Relations
87 Colin Drive
Manchester, NH 03103 USA
Phone: (603) 668-8117
Fax: (603) 668-8119
Contact: April Grossman
Marketing Coordinator
email: aprilgrossman@schleuniger.com
Related