Schleuniger, Inc. to Debut New Cut and Strip Machine at Electrical Wire Processing Technology Expo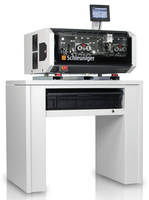 Schleuniger, Inc., a leading international manufacturer of high-precision wire processing machines, will be among the over 145 world-class suppliers and service companies to exhibit at the 2015 Electrical Wire Processing Technology Expo. Now in its 15th year, this exclusive showcase for the wire and cable processing industry will be held May 13 – 14, 2015 at The Wisconsin Center in Milwaukee, WI. Schleuniger will be at booth #1631 providing hands-on demonstrations of innovative solutions for stripping, cutting, sealing, crimping, and marking of all types of wire and cable.



For the first time at the Electrical Wire Processing Technology Expo, Schleuniger will show its newest cut and strip machine, the MultiStrip 9480. The new MultiStrip 9480 furthers Schleuniger's position as the worldwide leader in rotary stripping solutions. The machine's high resolution indexing cutter head and programmable rotary incision capability set the benchmark for high precision processing of coaxial and other shielded cables. The MultiStrip 9480 family offers various machine versions to meet your specific production needs. With many additional options and accessories, the MultiStrip 9480 can handle a nearly endless range of applications. Designed with efficiency in mind, the SmartBlade system and magnetically held guides increase output and maximize production by reducing changeover times.



Another new product Schleuniger will unveil at the show is the PreFeeder 4300; a compact cable feeding system for cable reels weighing up to 400 kg (880 lbs.). The system distinguishes itself through its simple design and ease of use. The shaftless design for easy loading and unloading of reels along with motorized axes allow reel handing with just one person. The machine's high feeding dynamic allows for higher production rates and increases the economic efficiency of the entire processing line.



In addition, Schleuniger will debut the new CT 65 wire crimping machine. The CT 65 is a hydraulic press with 15 tons of crimping force. It features quick-release mechanisms for fast die changes as well as programmable die close and open positions to minimize stroke and processing times. Up to 30 jobs can be stored in memory for easy recall and programs can be secured with a key switch.



The UniCrimp 100 will also be highlighted. The UniCrimp 100 is a benchtop crimping machine that delivers up to 2 tons of force. The safety guards can be completely opened to allow easy access to the working area along with simple, fast changeover, adjustment and set up times. The UniCrimp 100 accepts most applicators on the market and provides quality crimping for wires up to 6mm2 (10 AWG).



Additional products to be demonstrated include the CrimpCenter 36 S, S.WOP software for wire optimized production, MegaStrip 9650, PowerStrip 9550, StripCrimp 200, UniStrip 2300, and RotaryStrip 2400 among many others.



In addition to exhibiting at the trade show, Schleuniger's Senior Product Manager, Rob Boyd, will present an educational seminar on "Comprehensive Quality for Wire Processing." The presentation will be held on Thursday, May 14, 2015 at 10:30 am in room 201 and is open to all attendees. Quality pertains to many facets of production. Designed to educate attendees on the current quality trends and solutions that are available today in the wire processing industry, the presentation will cover the importance of quality in every area from bench-top processing to production with automatic termination machines.



More information can be found at www.schleuniger-na.com/wpte. Should you have any questions, please e-mail sales@schleuniger.com or call (603) 668-8117.



About the Schleuniger Group

The Schleuniger Group in Thun is a globally active technology company and a leading supplier in the Wire Processing industry. Customers of the Schleuniger Group primarily supply the automotive, entertainment, and information industries as well as the communication sector. Schleuniger products are used whenever precise wire processing plays a role. Development and production are located in Switzerland, Germany, and China. Schleuniger is always close to its customers - with four Sales and Service companies in the US, Germany, China, and Japan as well as with 40 distributors worldwide. The Schleuniger Group represents the independent Business Unit Wire Processing of the listed Metall Zug Group and has about 500 full-time employees and 30 trainees worldwide.

More from Machinery & Machining Tools