Scanning Software provides personal file management.
Press Release Summary: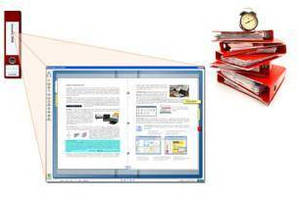 Designed to work with ScanSnap scanners, Rack2-Filer allows users to sort, organize, and file paper documents digitally and manage all documents in intuitive virtual library. Users can convert scanned documents and digital data into PDF files and organize them into graphical electronic binders and virtual cabinets. Suited for home and small offices, program offers OCR and send-as-email functions, ability to display search results in binder, and ability to rearrange order of contents.
---
Original Press Release:

Fujitsu's Farewell to Scattered Documents



Rack2-Filer lets you literally 'feel' the paper on screen

London, 15. September 2009 - Fujitsu Europe Limited, a market leader in document imaging scanners, today announced the availability of Rack2-Filer, a uniquely new approach to personal file management solutions. Rack2-Filer enables users to compose virtual binders filled with digital paper and organize these in graphically animated storage racks or cabinets just like with real paper. The new 'Easy Flip' technology almost lets you feel the paper, while virtually flipping through the binder.

Especially designed to work with Fujitsu's ScanSnap family of scanners, like the new S1500, Rack2-Filer organizes digitally born documents along with paper documents in one unified virtual space. Any personal organising structure preferred and appreciated from physical paper can now be provided digitally through Rack2-Filer.

Rack2-Filer 5.0 is an easy-to-use scanning and file management solution specially designed for home and small offices. It allows users to quickly sort, organise and file paper documents digitally and manage all the documents in an intuitive, virtual library with the click of a button. It enables users to convert scanned documents and digital data into portable document format (PDF) files and organise them into graphical electronic binders and virtual cabinets.

The package supports seven European languages, and offers a range of new functionalities to users including an updated icon design, the ability to display search results in a binder, the possibility to rearrange the order of contents, 'send as email' function, and an Optical Character Recognition (OCR) function.

Easy operation makes searching for information simple

Rack2-Filer creates a life-like experience with digital content through the use of virtual cabinets and e-binders. While flipping through pages, users can add highlights, divider sheets and sticky notes to enhance the organisational value of their virtual library.

With Rack2-Filer's built-in OCR engine, content can be made searchable by word, phrase or number. Even information in 'sticky notes' and 'binder titles' can be retrieved.
Rack2-Filer enables users to store digitally born and scanned data in a very efficient way, providing several powerful tools and time-saving features to keep content highly accessible, accurately organised, and working hard for the individual user. Compared to the hassle-free search and retrieval capabilities of the software, paper is left redundant.

Reduce paper clutter and save time

"Today's working desks in the office or at home are all-too-often overflowing with paper. Piles of unsorted papers combined with stored data across different locations makes personal document organisation a burden," stated Klaus Schulz, Manager Product Marketing EMEA, Imaging Systems Division, Fujitsu Europe Group. "This is a problem which users wholeheartedly wish to avoid. Rack2-Filer has been developed to overcome the chasm between the digital and the paper world and at the same time make personal document organisation incredibly easy. Rack2-Filer provides a cost effective, easy to operate personal information management system".

Perfect partners - Rack2-Filer and ScanSnap S1500

The ScanSnap S1500 is Fujitsu's latest one-button scanning solution, launched at the CeBIT Expo this year, and is a compact-size desktop document office scanner targeted for fast and easy high-quality scanning in general offices and diverse environments. The ScanSnap S1500 excels through speed, ease of operation, efficient digitised data management, intelligent software functions and enhanced connectability. Rack2-Filer 5.0 has been designed to link seamlessly with the ScanSnap S1500, meaning that users can enjoy the benefits of digitising, sorting and filing their documents with the minimum of fuss.

Rack2-Filer 5.0 is compatible with Windows 2000, Windows XP and Windows Vista, and supports seven European languages: German, English, Spanish, Portuguese, Russian, Italian and French. The software is available in EMEA (Europe/Middle East/Africa) immediately at a recommended net retail sales price of 198. The shown price does not include applicable VAT charges.

About Fujitsu

Fujitsu is a leading provider of IT-based business solutions for the global marketplace. With approximately 175,000 employees supporting customers in 70 countries, Fujitsu combines a worldwide corps of systems and services experts with highly reliable computing and communications products and advanced microelectronics to deliver added value to customers. Headquartered in Tokyo, Fujitsu Limited (TSE:6702) reported consolidated revenues of 4.6 trillion yen (US $47 billion) for the fiscal year ended March 31, 2009.

For more information, please see: www.fujitsu.com

About Fujitsu Europe Limited

Operating in Europe/MiddleEast/Africa, Fujitsu Europe Limited is a market leading provider of document image scanners for professional desktop, workgroup and high volume production environments; Enterprise SCSI, FCAL and SAS, and Mobile ATA and SATA hard disk drives; high capacity external 2.5-inch drives; biometric authentication sensors as well as dot-matrix printers. Established in the United Kingdom in 1981, Fujitsu Europe Limited is a wholly owned subsidiary of the global electronics giant Fujitsu Limited and has its head office in the UK as well as subsidiary offices in Germany, Italy and Spain.

For more information, please see: http://emea.fujitsu.com/felg

More from Software