Scalable Server offers ten drive bays.
Press Release Summary: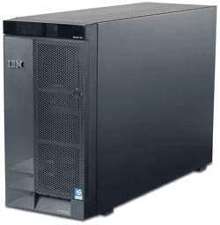 With hot-swap, power, and redundant cooling fans, and systems management control, xSeries 235 2-way server incorporates 3.06 GHz Intel Xeon processor and 512 MB of 133/266 MHz Double Data Rate with 12 GB max ECC system memory. With internal storage capacity up to 1.3 TB4 and 6 available PCI slots, product offers 3 USB, 2 integrated system management, 2 serial, one parallel, mouse, and keyboard ports. Hot-swap power supplies offer support for 533 MHz FSB.
---
Original Press Release:

IBM eserver xSeries 235 Servers Feature a Fast Intel Xeon Processor for High Performance, Reliability, and Scalability


At a Glance

With hot-swap, power and redundant cooling fans, and greater systems management control, the xSeries 235 features:

o A powerful 3.06 GHz Intel Xeon processor
o 512 MB of 133/266 MHz Double Data Rate (DDR) with ECC system memory 12 GB maximum
o Dual-channel Ultra320 controller
o One or two 660-watt power supply; model dependant, hot-swap option
o Integrated systems management processor
o Six full-length PCI slots: Two 64-bit/133 MHz PCI-X, hot-plug, three 64-bit/100 MHz PCI-X, and one 32-bit/33 MHz
o Ten drive bays: Standard diskette drive and 48x-20x CD-ROM, six hot-swap HDD bays, and two 5.25-/3.5-inch half-high bays
o Up to 1.3 TB hot-swap disk storage with optional three-pack Ultra320 Hot-Swap Expansion Kit
o Integrated Gigabit Ethernet controller; SVGA video with 8 MB memory
o 5 U tower industry-standard models, rack mount optional
o Three USB, two integrated system management, two serial, one parallel, mouse, and keyboard ports

Overview

The xSeries(TM) 235 2-way server uses an Intel® Xeon processor providing power and performance at an affordable price.

Offering a pathway for future growth, the xSeries 235 provides expandability with two processors, up to 12 GB, using 2 GB DIMMs, of PC21002 DDR memory, internal storage capacity up to 1.3 TB4, and six available PCI slots.

Integrated Gigabit Ethernet gives you extensive networking bandwidth keeping all slots free for other adapters. The xSeries 235 comes in a 5 U tower model and offers a tower-to-rack conversion kit. X-Architecture(TM) features like Chipkill(TM) memory, Active PCI-X technology and hot-swap cooling and power keep your server available when you need it. The xSeries 235 is the first xSeries server to deliver integrated RAID-1 functionality, which gives you the ability to mirror HDDs for data protection.

Reliability and availability features include:

o Hot-swap power supplies (model dependent) - support for 533 MHz FSB
o Front and rear dual hot-swap fans
o Two hot-plug PCI-X 64 bit/133 MHz card slots, 3-64 bit/100 MHz PCI-X card slots, and 1-32 bit/33 MHz card slot
o Integrated Gigabit Ethernet and Integrated RAID-1 support
o Systems management subsystem or Integrated Systems Management
o Light Path Diagnostics
o Automatic server restart (ASR) on operating system hang condition

Powered and Scaled for e-business Growth

o A powerful 3.06 GHz Intel Xeon processor with 512 KB L2 cache
o 533 MHz front side bus (FSB) yielding 133 MHz functional speed processor operations to memory and PCI bus
o 512 MB of high-speed, two-way interleaved, 133/266 MHz ECC memory
o High-speed, wide-bandwidth, full-length PCI-X bus slots at 133 MHz
o Broadcom 5703 Gigabit Ethernet and dual-channel UltraSCSI (320 MB/s)
o Six hot-swap drive bays; nine hot-swap drive bays with three-pack option

High Availability for Around-the-Clock e-business

o Integrated systems management processor
o Wake on LAN® and ECC memory to detect and correct double bit errors

Service and Support Perfected for e-business

o ServerGuide(TM) and IBM Director
o IBM Server support and Web support
o Three-year, on-site, limited warranty

Key Prerequisites

o Monitor
o Keyboard/mouse

Planned Availability Date

May 15, 2003


More from Sensors, Monitors & Transducers