SC040 Slip Ring features steel bearings.
Press Release Summary: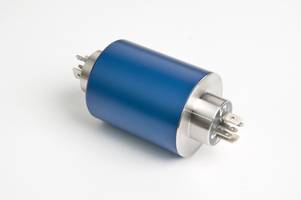 Ensuring current industry standards, SC040 Slip Ring features sliding gold on gold contacts and provides reliable transmission of energy and signal between stator and rotor. Providing interfacing compatible to rotary transmitters, unit replaces mercury rotary transmitters. Suitable for food and pharmaceutical industries, product is designed with steel bearings.
---
Original Press Release:
LTN Offers New Mercury-Free Slip Ring for Packaging Machines
LTN introduces a new slip ring for packaging machines that does not contain mercury, making it ideal for sensitive applications within the food and pharmaceutical industries. Called the SC040 Slip Ring, this alternative enables a high electricity and data transmission rate, combined with compact dimensions.
Many packaging machines today, used in the food and pharmaceutical industries, still use rotary transmitters which contain mercury for the transmission of power and electrical signals in machinery. If the worst happens and a machine develops a leak at the seals, this can translate into potential danger for people and the environment. Therefore, LTN, an experienced provider of electromechanical components related to industrial control and drive technology, has now developed the SC040 Slip Ring alternative.
The LTN SC040 slip ring is based on a classic designed slip ring with bearings made of steel, and was carefully engineered to make do without mercury while meeting the same high requirements concerning service life, reliability of data, and energy transmission. The energy and signal transmission between the stator and rotor is reliably carried out via sliding gold-on-gold contacts which received special attention during development so that current standards in the industry were ensured to be met.
The SC040 can replace current mercury rotary transmitters in existing machines without any complications, as it has an interface compatible with rotary transmitters of well-known manufacturers often used in packaging machines today. With the harmless and yet robust SC040 slip-ring solution from LTN, an affordable and environmentally protective alternative solution is now available to the industry.
LTN Servotechnik GmbH is based in Germany with exclusive North American distribution through HEIDENHAIN Corporation in Schaumburg, IL. LTN specializes in providing components to the international machine builders and plant engineering industry. The worldwide network of sales and service offices is the backbone of the traditionally-oriented company's global activities. LTN's product line is largely composed of slip rings and resolvers, leaning on application know-how to provide customers with tailored solutions to individual problems.
For more information, contact HEIDENHAIN's Public Relations Manager Kathleen Stoneski at (847) 510-4702 ([email protected]) or write to us at HEIDENHAIN CORPORATION, 333 E. State Parkway, Schaumburg, IL 60173. HEIDENHAIN can also be accessed directly via our web site at www.heidenhain.us