SBCs offer color touch screen LCD and Java(TM) support.
Press Release Summary: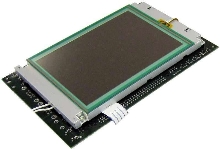 SmartControl® SC-210/211 network-enabled HMI computers are based on 32-bit ARM processor with 64 Mb of SDRAM max and 256 Mb Flash max for solid state storage of application code and data. Along with 5.7 in. QVGA display, they integrate Ethernet controller, up to 6 RS232/RS485 serial ports, and analog and digital I/O. Firmware integrates real-time kernel and Sun-certified Java Virtual Machine, which translates bytecode to native code at runtime.
---
Original Press Release:

All-In-One Network-Enabled Computer with Integrated Colour LCD and Touch Screen Supports Java(TM)


Deurne, The Netherlands, April 20, 2005 - Snijder Micro Systems today announced the public release of the new SmartControl® product line, a family of rugged, network-enabled HMI computers with colour LCD and touch screen integrating a wide range of I/O and interfacing possibilities and featuring full support for the Java(TM) programming language.

The SmartControl SC-210/211 are all-in-one single-board computers featuring a 5.7" LCD QVGA display with integrated touch screen, built-in Ethernet controller, up to six serial ports (RS232/RS485), analog and digital I/O, and a wide range of additional interfacing options. The system is based on a high performance 32-bit ARM processor with up to 64 MB of SDRAM and up to 256 MB of flash for solid state storage of application code and data. Additional onboard peripherals include a watchdog, temperature sensor, real time clock with battery backup, programmable slave microcontroller, unique factory-programmed 64-bit ID, digital contrast and backlight control, buzzer, etc. Different enclosure options are available.

The SmartControl SC-21x firmware integrates a industry-leading real-time kernel and Sun-certified Java Virtual Machine which translates all bytecode to native code at runtime, before execution, achieving unrivalled performance and minimal footprint. The system can be programmed completely in Java, including full support for the AWT (Abstract Windowing Toolkit) graphic libraries, without the need for any proprietary or non-standard development tools. Programming in assembler and C/C++ is also possible.

The extended temperature range, low power consumption (less than 1000 mA including the display and backlight), and rugged nature of the SmartControl units make them ideal for a wide range of applications, including industrial process control and automation, automotive/transportation, medical equipment, domotics, points of sale, survey terminals, etc. The system opens up endless possibilities combining the local user interface based on the built-in LCD display and touch screen, and a Ethernet-based interface for remote control and maintenance. The support for Java makes it possible to reduce development costs and shorten development cycles and time to market.

For more information, please visit: www.embedded-web.com

Pricing and availability:

The SmartControl SC-21x is available now. Prices depend on volume and configuration and are in the EUR500-EUR800 range. There are no additional licensing costs or royalties for the OS, JVM, and runtime libraries. Please contact Snijder Micro Systems for detailed pricing information.

About Snijder Micro Systems:

Founded in 1986, Snijder Micro Systems is a front runner in industrial automation. Snijder Micro Systems is using industry-leading technology to design tailor-made solutions and customisable products, featuring an object oriented RTOS and high-performance JVM. The main development goal at Snijder Micro Systems is to conquer the complexity of designing and maintaining a general-purpose Java platform and provide a ready-to-use product to OEMs and embedded system integrators. For further information, please visit Snijder Micro System's web site at: www.snijder.com/

More from Agricultural & Farming Products