SawPolish Units are compatible with ElectrolyteStaining Unit.
Press Release Summary: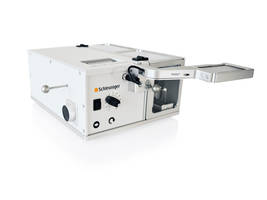 Available in SawPolish Unit 6, Unit 60 and Unit 6 Comfort versions, Schleuniger's SawPolish Units perform both cutting and polishing processes. The SawPolish Unit 6 and SawPolish Unit 6 Comfort processes crimp terminations of height of 9 mm whereas SawPolish Unit 60 processes up to 25 mm terminals height. Offering digital display for repeatable cut positioning, unit 6 comfort features adjustable mechanical stop and digital magnifier.
---
Original Press Release:
Schleuniger SawPolish Units – Precise Sawing and Polishing for Accurate Crimp Cross Sectional Analysis
Creating micrographs, or cross-sectional views, of crimped connections with conventional methods and chemical etching is time-consuming and requires strict adherence to on-the-job safety regulations. However, the Schleuniger MicroGraph System allows users to safely create high-quality cross-sectional views in a fraction of the time needed with conventional methods.
The first step in crimp cross-sectional analysis with the Schleuniger's MicroGraph System is cutting, or sawing the terminal. Schleuniger's SawPolish Units offer first class cutting quality with a carbide saw blade that makes the subsequent polishing process unnecessary in many cases. This reduces costs as well as overall processing time. Other systems on the market use a standard cutting disc that provides a very rough cut. Therefore, polishing is required and sample processing takes more time. Sawing can be further optimized using different sawing blades for different materials or small wires down to 0.03 mm2 (32 AWG). "Precision pays off," states Schleuniger product manager, Rajeevan Kumaran, and precision is Schleuniger's business.
For applications that do require polishing, a key benefit of Schleuniger's SawPolish Units is that the sawing and polishing processes are combined in one device. The polishing disc is in line with the saw blade so the sample can be cut and polished in one motion. Thus, test samples can be prepared in one step without having to remove the sample holder and processing time is minimized. Other, less advanced, solutions split sawing and polishing into two separate devices, thereby increasing processing time.
Schleuniger offers a full range of sawing and polishing units for this process. Schleuniger's SawPolish product family is comprised of three machine versions to meet varying budgets and production needs: SawPolish Unit 6, SawPolish Unit 60 and our newest model, SawPolish Unit 6 Comfort. The SawPolish Unit 6 and SawPolish Unit 6 Comfort can process crimp terminations with a maximum terminal height of 9 mm (0.35"). The SawPolish Unit 60 can accommodate terminals with a height of up to 25 mm (0.98").
The new SawPolish Unit 6 Comfort also offers an adjustable mechanical stop with digital display that ensures repeatable cut positioning. Furthermore, a digital magnifier with a four-step zoom capability improves cutting visibility and is ideal for smaller applications. Sample holders can be easily and securely inserted into the SawPolish Unit using a tool-less, quick-change mechanism.
The wide range of capabilities on the various machine versions allows a broad spectrum of crimped and welded connections to be easily processed. Numerous, interchangeable sample holders are available to support a variety of applications, including standard crimp and welded connections as well as potted connectors.
The SawPolish Units are compatible with the ElectrolyteStaining Unit and the MacroZoom Unit 1.3 to form the MicroGraph System for complete crimp cross-sectional analysis.
More information about this new product can be found at www.schleuniger-na.com. Should you have any questions, please e-mail sales@schleuniger.com or call (603) 668-8117.
About Schleuniger
The Schleuniger Group in Thun is a globally active technology company and a leading supplier in the Wire Processing industry. Customers of the Schleuniger Group primarily supply the automotive, entertainment, and information industries as well as the communication sector. Schleuniger products are used whenever precise wire processing plays a role.
Development and production are located in Switzerland, Germany, and China. Schleuniger is always close to its customers - with four Sales and Service companies in the US, Germany, China, and Japan as well as with 40 distributors worldwide.
The Schleuniger Group represents the Business Unit Wire Processing of the listed Metall Zug Group and has about 640 full-time employees and 30 trainees worldwide.
Schleuniger, Inc.
Media Relations
87 Colin Drive
Manchester, NH 03103 USA
Phone: (603) 668-8117
Fax: (603) 668-8119
More from Machinery & Machining Tools