SAW Filters target single-cable distribution systems.
Press Release Summary: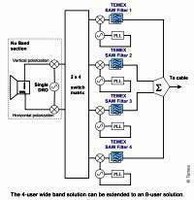 Compatible with Cenelec EN16769 and multi-dwelling unit standard, SAW filters include balun function and accommodate up to 12 users on single cable. SAW technology enables LNB architecture to simplify Ku band section (single DRO instead of pair) and switching matrix (2 x 4 instead of 4 x 4). RoHS compliant filters come in 0.1 x 0.1 in. hermetically sealed ceramic package and have passivation coating on top of electrodes.
---
Original Press Release:

Temex's Saw Filters for Single-Cable TV Distribution Systems



Temex, one of the worldwide leaders in the field of high-performance Time and Frequency components and sub-systems, announces the launch of a wide range of SAW filters for Single Cable Distribution Systems. Used for selecting television channels, the filters are key components for these systems.

Today, with the increase of set-top-boxes in the home, the widespread use of high-end DVR-PVR and high-definition receivers, several cables are needed to connect with the satellite dish on the roof. Expensive installations, unsightly and troublesome wiring, and restrictions in apartment buildings could limit the potential development of satellite reception market. With the Single Cable Distribution systems promoted by the SCD Consortium, only one single cable is needed to overcome all these drawbacks-a distinct advantage for both the digital entertainment providers who already selected this technology and the home television-distribution market.

Temex has designed two sets of filters for this application. Both are compatible with the European Single Cable Distribution standard Cenelec EN16769, and also compatible with the multi-dwelling unit standard currently being studied.

Compared to other filtering technology, these filters allow a better frequency selectivity while reducing the size and including the mandatory balun function and accommodate up to 12 users on the same single cable.

A unique wide band LNB architecture is made possible only by SAW technology. As it can be seen on the block diagram (photo 2), this simplifies the Ku band section of LNB (a single DRO instead of the traditional pair) and the switching matrix (2 x 4 instead of 4 x 4). As a result, the total cost of a 4-user solution is dramatically reduced. The 4-user wide-band solution can be extended to an 8-user solution.

"SAW filter technology is also very well suited to high volume production. Thanks to all these reasons, they soon will be widely used in LNB and switchers," says Stephane Chamaly, Temex field applications engineer.

Temex SAW Filters are recognized and approved by major chipmakers for satellite reception. The filters are packaged in a traditional .1 x .1 in. hermetically sealed ceramic package for high reliability purpose, and a passivation coating on top of electrodes improves their quality even further. All filters are RoHS compliant and available in a fully lead-free version.

Meet Temex team at the IBC Exhibition, Europe's key annual trade show for media, video, and broadcasting professionals, in Amsterdam from Sept. 8 to 12. The company will present its SAW Filters and its solutions for Digital Terrestrial TV Broadcast and Analogue Terrestrial TV Broadcast at booth number 8-198.

About Temex:

Temex is a leading global designer and manufacturer of total value-added time and frequency management solutions. It offers advanced high-performance products, ranging from filter and oscillator components to frequency synthesizers, reference clocks to smart GPS timing modules, and test instruments to complete network synchronization systems that are used in a wide variety of applications industries. The company is a growing supplier to major manufacturers and network operators. Its headquarters are in the heart of the technological park of Sophia-Antipolis, France, and has offices in Europe, the United States, and Asia. With an annual turnover of $80 million, it employs 750 people in 10 countries.

For further information, please contact:
TEMEX
Elodie Cally
Marketing and Communication Manager
Tel: +33 (0) 4 97 23 30 19
E-mail : elodie.cally@temex.com
Web: www.temex.com

More from Explosives, Armaments, and Weaponry