SATA SSD provides advanced security for data-at-rest.
Press Release Summary: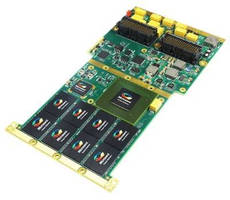 Featuring ANSI/VITA 42.3-2014-compliant PCIe interface and XMC form factor, TRRUST-Stor® SSD plugs directly into host card and eliminates need for external enclosure. Device features hardware-based AES-256 encryption and advanced key management systems. Layered security protocol allows hardware or software command to erase encryption key in less than 30 ms and full flash storage media in less than 10 sec. Available in 256 and 512 GB capacities, SSD provides 185 Mbps read/write speed.
---
Original Press Release:

Microsemi Introduces XMC Form Factor SATA SSD for Industrial and Defense Applications Requiring the Highest Levels of Security and Reliability



New SSD Addresses Market Demands for High-End Embedded Computing and Other Applications Where Security for Data-at-Rest is Required



ALISO VIEJO, Calif. -- Microsemi Corporation (Nasdaq: MSCC), a leading provider of semiconductor solutions differentiated by power, security, reliability and performance, today announced an ANSI/VITA 42.3-2014-compliant PCI Express interface XMC form factor serial advanced technology attachment (SATA) solid state drive (SSD) for industrial and defense applications where ultimate security for data-at-rest is required. As part of Microsemi's TRRUST-Stor(®) best-in-class self-encrypting drive (SED) technology offerings, the XMC offers powerful key management methods. In the most advanced method, no encryption key is stored in the SSD, leaving data forensically unrecoverable.



Typical embedded systems utilizing secure SSDs require a bolt on external chassis for the drives, adding weight and size to the device. Microsemi solves the problem by offering an XMC form factor that plugs directly into the host card and eliminates the need for an external enclosure. In addition, the advanced TRRUST-Stor family of secure SSDs includes advanced security features such as hardware-based AES256 encryption and advanced key management systems.



"Microsemi's legacy of providing the most secure data protection now extends into the card level XMC format, delivering the highest levels of security and reliability for demanding embedded applications in the industrial and defense markets," said Bill Sorrentino, senior tactical marketing manager for Microsemi's memory and storage business. "This solution is ideal for a variety of embedded size, weight and power (SWaP)-constrained applications requiring large amounts of secure storage."



The XMC SSD has a layered security protocol allowing a hardware or software command to erase the encryption key in less than 30 milliseconds (ms) and erase full flash storage media in less than 10 seconds with no trace of recoverable data.



"Microsemi continues to grow its family of products providing innovative solutions that solve security demands for embedded applications in industrial and defense markets. With the emergence of cyber security concerns, Microsemi is committed to provide solutions that support our customers' data-at-rest requirements," said Charlie Leader, vice president and general manager for Microsemi's Power and Microelectronics Group (PMG). "We will continue our commitment to providing the highest levels of performance while meeting the most stringent security requirements."



Key features include:



--  XMC x2 PCIe interface per ANSI/VITA 42.3-2014

--  XMC SATA interface (configurable)

--  Capacity: 256GB and 512GB reliable SLC NAND flash

--  Up to 185 megabyte (MB)/second read/write speed

--  Key management: multiple modes, including customer supplied keys

--  Hardware-based AES-256 XTS encryption

--  TRRUST-Purge((TM)) clears encryption key in less than 30ms

--  Hardware based fast erase, erasing the entire drive in less than 10 seconds with validation

--  Industrial temperature range

--  Leading-edge fast sanitization speed

--  Military sanitization methods/protocols

--  U.S.-made with full configuration control

--  Abrupt power interruption protection

--  Mean time between failures (MTBF): 2.5 million hours

--  Continuously running built-in self-test



Product Availability

Microsemi's new MXMCM256/512 TRRUST Stor 256GB and 512GB XMC SSDs are available to order now. For more information, visit http://www.microsemi.com/products/memory/trrust-stor/mxmcm256-512-xmc. To request a full datasheet or further product details, email sales.support@microsemi.com.



About Microsemi's Memory, Processor and Storage Product Portfolio for Defense

As a global provider of advanced embedded components for defense markets and applications including those meeting extended environment operational requirements, Microsemi offers full design, fabrication and test capabilities for simple to complex custom multi-chip packages (MCPs), commercial off-the-shelf (COTS) memory, processors and combination MCPs for demanding defense applications. For optimized size, weight and power (SWaP), Microsemi designs, qualifies and miniaturizes electronic systems for severe defense and aerospace environments. To learn more visit http://www.microsemi.com/product-directory/899-memory-processors-storage.



About Microsemi's Defense and Security Product Portfolio

Complementing its leadership in secure SSD technology, Microsemi is a provider of secure field programmable gate arrays (FPGAs) and system-on-chips (SoCs), security software, anti-tamper solutions, FIPS-197 certified 1 Gigabit Ethernet and 10 Gigabit Ethernet PHYs with AES-256 MACsec support (IEEE 802.1AEbw-2013), radio frequency (RF) transceivers, embedded memory, monolithic microwave integrated circuits (MMICs), transient voltage suppression (TVS) devices, power switching devices, high voltage diodes, high voltage transistors, Zener voltage regulators, NPN and PNP transistors and signal diodes. For more information about Microsemi's portfolio for defense applications, visit http://www.microsemi.com/applications/defense.



About Microsemi

Microsemi Corporation (Nasdaq: MSCC) offers a comprehensive portfolio of semiconductor and system solutions for communications, defense & security, aerospace and industrial markets. Products include high-performance and radiation-hardened analog mixed-signal integrated circuits, FPGAs, SoCs and ASICs; power management products; timing and synchronization devices and precise time solutions, setting the world's standard for time; voice processing devices; RF solutions; discrete components; security technologies and scalable anti-tamper products; Ethernet solutions; Power-over-Ethernet ICs and midspans; as well as custom design capabilities and services. Microsemi is headquartered in Aliso Viejo, Calif., and has approximately 3,600 employees globally. Learn more at www.microsemi.com.



Microsemi and the Microsemi logo are registered trademarks or service marks of Microsemi Corporation and/or its affiliates. Third-party trademarks and service marks mentioned herein are the property of their respective owners.



CONTACT:

Farhad Mafie

VP Worldwide Product Marketing

949-356-2399

or Beth P. Quezada

Director, Corporate Communications

949-380-6102

press@microsemi.com

More from Fluid & Gas Flow Equipment