SANY's Brand-New Excavator Wins Thumbs-up from Overseas Clients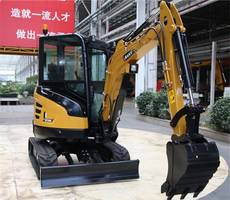 PEACHTREE CITY, Georgia, July 20, 2018 /PRNewswire/ -- As the newest member of SANY's mini excavator family, the SY26U, is specially designed to meet higher requirements in urban construction, agricultural application, landscaping, and other applications. Targeting the U.S., European, and Australian markets, SANY America invited local clients to take a test drive at SANY's factory in order to get detailed feedback for further improvements.
Test Drive Lets Clients Know More
Seeing is believing. SANY America recently organized an "Open House" event, inviting clients to take a test drive at SANY's factory in the U.S.
Victae and Monkes, who are SANY's dealers in the U.S, were very satisfied with SY26U's digging force and speed after they tried the mini excavator. "The SANY's staff told me that SY26U's bucket digging force is 24.3kN and max arm digging force is 14.2kN, which makes the machine very powerful and able to load more soil or materials at a time. Its swing speed is 10 rpm and max travel speed is 4.5km/h, which means that the SY26U helps drive our construction projects to be completed ahead of schedule," Victae said.
Tom is a dealer for machine rentals. He focused on SY26U's engine and operation performance. "SY26U's Yanmar engine ensures its reliability in tough working conditions. The eco-friendly Tier 4 Final engine can produce more power. The advanced SLSS hydraulic system, the optimal power control and the work mode selection greatly improve the machine's efficiency while reducing fuel consumption." Tom said that high efficiency and low fuel consumption are the greatest concerns for equipment renters and that the SY26U will perfectly meet his clients' needs.
Shipped New Machines For Dealers to Try
To let more clients experience SANY's products, SANY America shipped three SY26Us to three American dealers located in Salt Lake City, Long Beach, and Silverdale. Their clients and the local professional excavator operators gave their thumbs up to these brand-new machines.
Mike, a client of the dealer KTE, purchased a SY26U mini excavator after he took a test drive. "The machine's operation is easy and comfortable. It has a large-sized display screen showing the machine's condition and optional attachments. Its TOPS/FOPS certified cab guarantees safe operation. SY26U's broad view and shock-absorbing mechanical suspension seat make the machine comfortable to operate." He added that the easy maintenance of the mini excavator was also a key factor for him. "It has a large engine hood, which is easy to open and enables me to easily complete daily maintenance. In addition, all key parts are placed in the back of the excavator, including the air filter, oil filter, water separator, oil dipstick, expansion tank, and oil filling mouth, greatly facilitating maintenance."
A number of SANY SY26U machines are being delivered to U.S, European, and Australian markets, aiming at offering quality, advanced, and convenient equipment for construction projects in these areas.
For more details, please call: +86-731-8583-5199
Official website: www.sanyglobal.com
Email: sales31@sanygroup.cn
Follow us on: 
Facebook: SANY Group 
WeChat: SanyWorldwide