SANIWEDGE™ Wedge Wire Screen is resistant to abrasion.
Press Release Summary: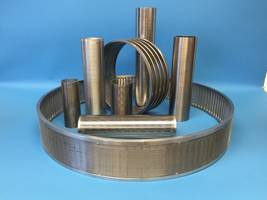 Available in .005 in. and 0.0015 in. retentions, SANIWEDGE™ Wedge Wire Screen can be shaped to curved panels, conical strainers and triangular sections. Suitable in water and waste, aggregate and mineral processing, pulp and paper, chemical, petrochemical, food, drug and beverage industries, product acts as filler media for use in basket strainers and resin traps.
---
Original Press Release:
Wedge Wire Screens Introduced by Newark Wire Cloth Company
Newark Wire Cloth Company of Clifton, New Jersey, has introduced SANIWEDGE™ wedge wire screen. The company's modern CNC controlled equipment produces wedge wire of the highest quality standards. Gap tolerance and weld integrity are controlled on a continuous basis during manufacture. SANIWEDGE™ adheres to the high Newark quality standards of ISO 9001:2008, AS9100c and NADCAP. Retentions are available to 400 mesh (.0015") and is 3A approved, for sanitary use, to retentions of .005".
SANIWEDGE™ is manufactured using a triangular surface wire that creates a non-clogging filter surface. It is abrasive resistant, mechanically strong and rigid, and maintains its shape and integrity under pressure. SANIWEDGE™ is an ideal filter media for use as: Basket Strainers, Resin Traps, Vessel Internals: Laterals, Collectors and Distributors, Filter Nozzles, Media Retention Screens including Ion Exchange, Sand and Activated Carbon, Flat Bed Support Grids, and Replacement Filter Elements.
The new wedge wire screen is a media of choice for use in the Water and Waste, Aggregate and Mineral Processing, Pulp and Paper, Chemical, Petrochemical, Food, Drug and Beverage industries. In addition to the standard products, SANIWEDGE™ can be shaped and formed into Curved Panels, Conical Strainers, Triangular Sections, and shapes to satisfy most applications. The company's engineers are available to assist with development of SANIWEDGE™ and can provide process calculations including strength, flow/pressure drop and alloy selection.
For more information, visit www.newarkwire.com.
Newark Wire Cloth Company
160 Fornelius Ave
Clifton, NJ 07013-1844
USA Toll Free: 800.221.0392 (X103)
Phone: 973.778.4478 (X103)
Fax: 973.778.4481
Cell: 973.865.7091
Email: [email protected]