Sanitation Suction Hose offers non-rubber alternative.
Press Release Summary: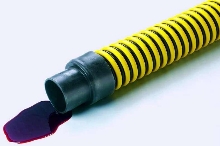 Yellow Jack hose, rated for full vacuum, features interlock construction for combination of flexibility and kink- and crush-resistance. Smooth interior is constructed from EVA/Polyethylene co-polymer, and heavy-duty external wear rib provides protection against abrasion. Molecular bonding process used in construction eliminates possibility of delamination of separate layers. Available 1½-4 in. dia, hose has temperature rating from -40 to +140°F.
---
Original Press Release:

Yellow Jack Thermo-Plastic Sanitation Suction Hose


Richmond Hill, ON - The Novaflex Group has set the industry benchmark within the sanitation hose market with their Yellow Jack Thermo-Plastic Sanitation Suction Hose. The inherent design of this hose offers a much lighter and versatile alternative to heavy and awkward rubber offerings, while still maintaining excellent durability. Yellow Jack's unique "interlock construction" allows for extreme flexibility and unparalleled kink and crush resistance. This advanced hose combines an incredibly smooth interior constructed from an EVA/Polyethylene co-polymer providing for optimized flow efficiency along with a heavy duty external wear rib for superior abrasion protection. Novaflex's Yellow Jack Thermo-Plastic Sanitation Suction Hose is constructed using a molecular bonding process which eliminates the possibility of delamination of separate layers due to adhesive deterioration and/or typical wear and tear and is rated for full vacuum. Applications include; liquid transfer - sanitary and cesspool, suction - construction and quarry, suction service - machine and tank liquid transfer, as well as many other uses. Available with factory-installed cuffs, or in bulk lengths in diameters ranging from 1 ½" to 4". Temperature rating from -40°F to +140°F

For more information on the Novaflex Group, please visit www.novaflex.com

About The Novaflex Group
The Novaflex Group, founded in 1977, is a privately owned North American designer and manufacturer of hose and duct products to industry for the movement of air, liquid and materials. Throughout their twenty-five year history, Novaflex has earned a reputation for providing innovative and high quality products for industrial venting and duct systems. The Novaflex Group operates thirteen manufacturing, sales and distribution facilities across North America with Company headquarters based in Richmond Hill, Ontario, Canada. The associated companies of The Novaflex Group are: Flexmaster Canada Ltd., Z-Flex U.S., Novaflex Industries, Novaflex Hose, Novaflex Plastics and Techose Ltee.

The Novaflex Group attributes their success to a corporate philosophy of creating value for customers with innovative products and services that exceed customer expectations and requirements. The Company continuously seeks ways to improve the quality of their products and processes. Today, Novaflex is an industry leader whose quality products are sold across North America and internationally.

Indianapolis, IN
Tel 317.334.1444
Fax 317.334.1535
800.526.6288

Haw River, NC
Tel 336.578.2161
Fax 336-578.5554
800.334.4270

Berlin, NJ
Tel 856.768.2275
Fax 856.768.2385
800.225.0215

Whitby, ON
Tel 905.666.4970
Fax 905.666-9388
800.563.3539

More from Computer Hardware & Peripherals